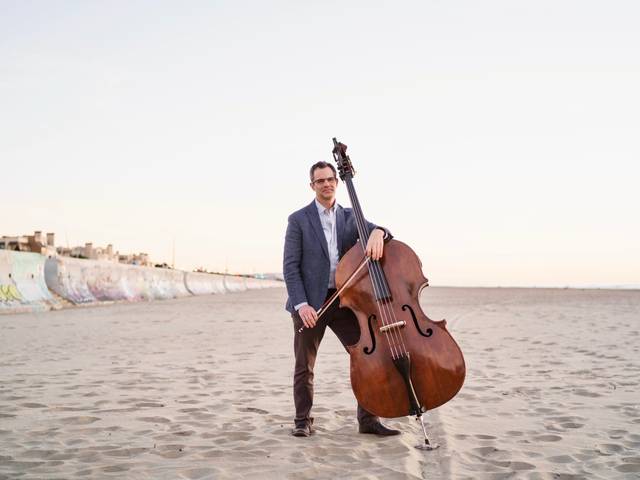 What is beauty? It can come in many forms to many different people. For Principal Bassist of the San Francisco Symphony, Scott Pingel ('96), beauty came to him in the form of music and art. "Those two vehicles have helped me learn so much more about myself and about life." But the beauty of Beethoven and Mahler did not initially inspire Pingel to pick up a bow. That inspiration came from a completely different genre.
"I was listening to the band Weather Report, and their jazz-funk bassist Jaco Pastorius played this line that hit me like a ton of bricks. I loved the tone he was making, everything about it. It was very inspiring, and I thought, 'this is what I have to do!'''
Playing everything from Earth, Wind & Fire and Tower of Power, Pingel fell in love with the electric bass during his early years of high school in McFarland, WI. It wasn't until his senior year that he got his first classical, upright bass. After lessons and hours of practicing, Pingel auditioned and was accepted to UW-Eau Claire.
At UWEC, he quickly became involved with many areas of the music department.
"During my freshman year, the orchestra played "Pines of Rome", which further opened my eyes up to the power and fulfillment I got with music."
But it wasn't just classical music that inspired Pingel, his funk background drove him to play in jazz bands and combos.
"Count Basie and Duke Ellington really taught me different emotions and gave me different avenues in my playing."
From the countless jazz and orchestral tours to the variety of recording projects with Mr. Baca, the musical opportunities he experienced at UW-Eau Claire allowed him to develop his skills in a myriad of ways.
"The culture of the music department was instrumental. Nobu and Mr. Baca created a positive and creative work environment that challenged me and shaped me as a musician."
After his time at UW-Eau Claire, Pingel went on to the Manhattan School of Music, where he studied classical bass exclusively. After completing his master's degree in Orchestral Performance, he went on to play for the Charleston Symphony until 2004, when he became Principal Bassist for the San Francisco Symphony.
A recent highlight came when he was invited to perform a special tribute version of "Anesthesia" at a sold-out Metallica concert. "I wouldn't be able to do that if I didn't have the freedom to explore different types of music at Eau Claire."
From a funk solo to a classical fugue, Scott Pingel has traversed the musical galaxy in search for true beauty in every art form he has discovered. I think it is safe to say he is succeeding on his journey.