The University of Wisconsin-Eau Claire is pleased to welcome guests from across the state for the state Legislature's Joint Finance Committee public budget listening session on April 11. The hearing will be in the Ojibwe Ballroom on the third floor of Davies Center. Doors to Davies Center open at 7 a.m.
Parking
Guests are able to park in the Haas Fine Arts Center and Human Sciences and Services parking lots off of Water Street. As the university is in session April 11, note that only the spaces identified below are available for members of the public, and all other lots will be enforced using regular permit requirements.
General public parking
Human Sciences and Services parking lot (F and S parking spaces).
Haas Fine Arts parking lot (AMP parking spaces).
201 Water St., Eau Claire, WI 54703 (shuttle to Davies Center available).
Americans with Disabilities Act Parking
Phillips lot ADA spaces (directly adjacent to Davies Center).
77 Roosevelt Ave., Eau Claire, WI 54701. (No campus ADA parking permit required).
Accessing Davies Center
The public parking lots are a short walk from Davies Center, as indicated on the campus map below. Ground signage will be posted along the route for ease of access. A shuttle service also will be available beginning at 7 a.m. to transport guests from the HFA/HSS lots to Davies Center.
View campus map here and below.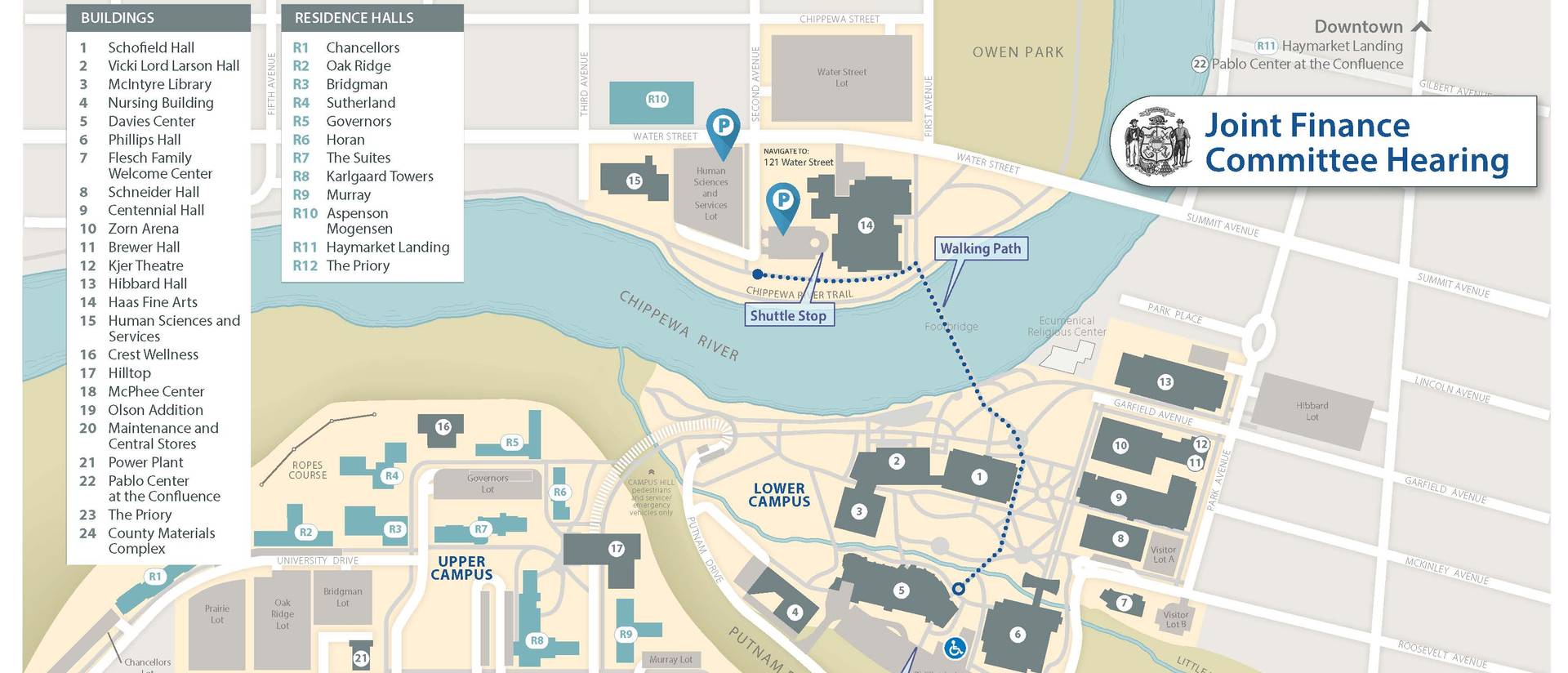 Amenities
UW-Eau Claire's lower campus food-service operations in Davies Center and Centennial Hall will be open during the Joint Finance Committee's hearing, and food/drinks are allowed in the hearing room. You can learn more about Blugold Dining's locations here.
Wi-Fi is available for all guests at the hearing; you can find instructions for connecting to the UWECguest Wi-Fi network here.