Photo caption: The County Materials Complex - including the Sonnentag Center - is on it's way up! This project has involved nearly every department in our division. Construction is on track for a 2024 grand opening.
Check-in with VC Crickette
---
3 Big Things to Know This Week
Vice Chancellor Crickette presented a campus-wide Budget & Finance Forum this past Friday in Centennial Hall. Click here to watch the presentation.
Human Resources and the Chancellor's Advisory Council on Wellbeing will present Everyone Grieves But We Don't Talk About It: Helping Your Colleagues and Employees Through Their Most Traumatic Times on April 7 in Schneider Hall. Click here to learn more about this free presentation and to register in-person or virtually.
Our division is committed to doing our part to support the EDI Strategic Plan. Click here to explore & register for EDI professional development opportunities.
---
F&A Q&A
This week's Q&A is with John Arnold, head of dining experiences in University Centers.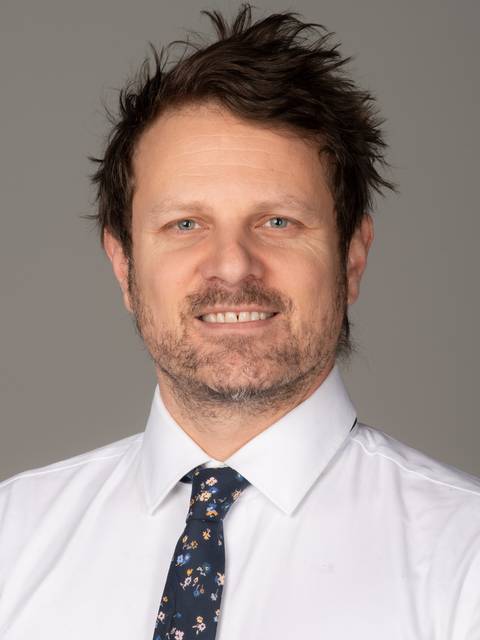 What do you enjoy most about your job?
I enjoy the preparation that is involved in creating a meal or event, the interaction with staff and guests, and the opportunity to provide both physical and mental nourishment for our guest's well-being.
What is my favorite activity to do in Eau Claire?
I enjoy a summer afternoon bicycle ride to music in the park.
What was your first job?
My first job was, no surprise, in food service. When I was fourteen, I got a summer job working as a dishwasher at a fine dining restaurant.
---
The Division of Finance & Administration is a collaborative team working year-round - often behind the scenes - to provide high-quality and people-focused services to the students and employees of UW-Eau Claire. Our transformative ideas and innovative people empower others to do their best and achieve their goals.