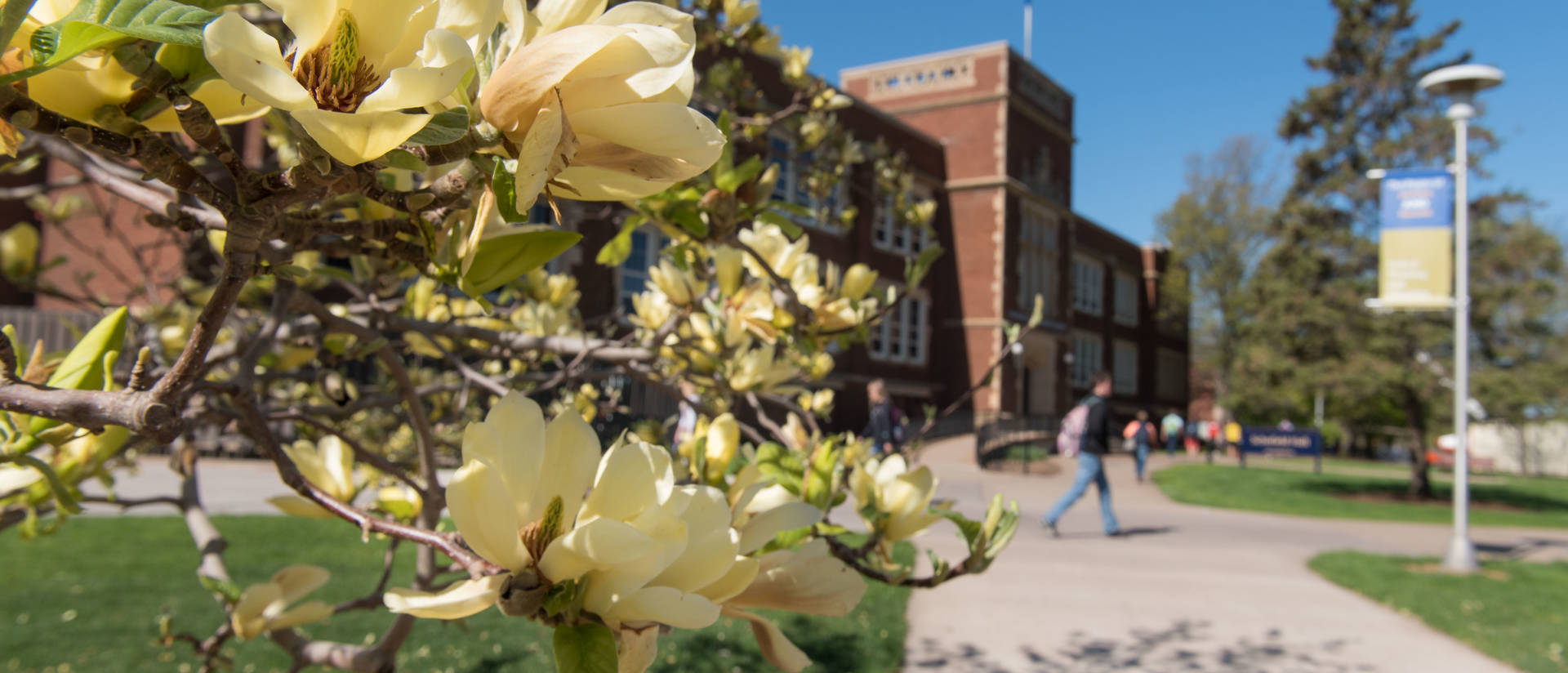 UW-Eau Claire boasts a high number of alumni who choose to stay in Eau Claire to live and work after graduation, and it's easy to see why. Eau Claire has something to offer everyone. From bike trails and parks, to museums and libraries, reliable public transportation, beautiful waterways, excellent public schools and arts and entertainment, Eau Claire can meet the needs of a diverse population.
In it together
The collaboration between UW-Eau Claire's faculty, staff and students and the Eau Claire community is second to none. From huge undertakings like the Confluence Project to more one-on-one events like helping a local elementary student with his reading comprehension — there are multiple ways Blugolds contribute to the Eau Claire area, and vice versa.
For a comprehensive look at all that the city of Eau Claire has to offer, see the city of Eau Claire website for links to information about economic development, education, quality of life, downtown redevelopment and more.
Turn up the music
Becoming widely known as a hub for music creatives, the music scene in Eau Claire covers a wide range of interests and year-round options for live entertainment. A great publication and website called Volume One covers all of the music and entertainment events, on and off our campus. It provides a full calendar of events, including their signature Sounds Like Summer Concert Series in Phoenix Park.
Award-winning city
In 2014, Eau Claire was selected as one of 10 All-American City Award winners by the National Civic League, selected for its "innovation, civic engagement, cross-sector collaboration" in dealing with community challenges. What does that really mean? It shows that this community is one with leadership that values forward thinking and inclusiveness in facing the issues of the 21st century.
And that's not all! A few more bust-our-buttons items are:
Forbes 2014 #4 ranking out of 536 cities in work-life balance, which considers work hours, commute time, income and cost of living
61st in U.S. statistics for economic and job growth
A Yahoo Finance top 10 pick for "Best Places to Retire," citing health care, recreation and culture
And our favorite: Eau Claire is America's 23rd "Brainiest City," according to the Lumos Labs Lumosity app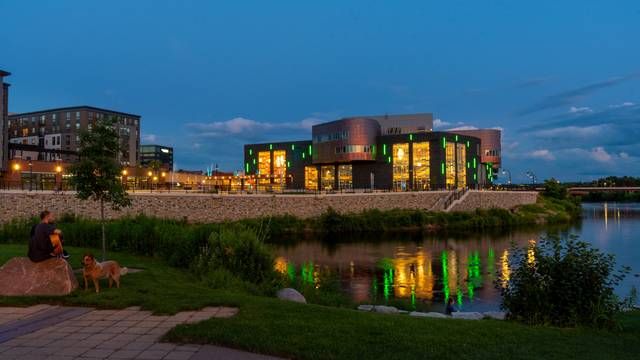 Benefits of being a Blugold
The list is long when it comes to the perks of being an employee at UW-Eau Claire! Whether you're staff or faculty, on the Eau Claire or Barron-County campus, we want to help you have the best work experience possible. Read on to learn about the many benefits of being a Blugold, including the best places to eat, how we support your health and wellness endeavors and countless other resources. If you'd like to learn more about Barron-County specific offerings, click here.
University community
At UW-Eau Claire, you'll find a community ready to support you. Our staff and faculty are an important asset not only to our students but to Eau Claire and Barron County. Here are some of the ways that you'll be supported:
Free Eau Claire City Transit (EC)

Davies Service Center (EC)

Postal Services (EC)

Banking Services (EC)

Event Ticketing (EC/BC)

Printing Services (EC)
McIntyre Library (EC)

Learning and Technology Services (EC/BC)

Group Workshops

Software Training

Office 365 – free software

Verizon and AT&T Wireless Services Discount (EC/BC)
Children's Nature Center (child care)

Thank a Blugold (EC/BC)

LTS Support for personal devices (EC/BC)

The HUB – software discounts (EC/ BC)

Enterprise Rent-a-Car discount (EC/ BC)
Things to see in Eau Claire
Campus offers a number of things to see and do!
Foster Gallery (Haas)

Bird Museum (Phillips)
Light Therapy Room (Crest Wellness Center)

McIntire Library
Tropical and Succulent Plant Greenhouses (Phillips)

Blugold Makerspace (McIntyre Library)
Health and wellness
We understand how important it is take care of the mind and body. That's why we offer numerous activities and services, often at no charge!
Biometric Screening (EC/BC)

Free Health Coaching (EC/BC)

Well Wisconsin Webinars (EC/BC)

On-campus Fitness Centers (EC)
Crest Fitness Center (EC)

McPhee Strength & Performance Center (EC)

Free Exercise Classes (EC)

Fit4Life Assessments (EC)
Massage Therapy—Crest Center (EC)

Meditation Room (Schofield) (EC)

Wednesday Wellness Walks (EC)

Gymnastics for Kids discount (EC)
We also offer an Employee Assistance Program (EAP). Kepro is free, confidential, 24/7 assistance for any work or personal life issue you or your family members may be experiencing. You can contact Kepro at 1-833-539-7285 or visit them online (password: SOWI).
For more information about the health and wellness benefits available, visit our Employee Wellness page.
Professional development
We want to help our faculty and staff be the best that they can be. Read below for some of the wonderful opportunities that we offer!
Professional Development Days

EDI classes and activities

HR Supervision and Leadership Classes
LTS Technology Classes

CETL Training program for Faculty
Professional Development Scholarships

Office of Research and Sponsored
For the fun of it
Eau Claire offers countless adventures and places to explore!
Outdoor Equipment Rental

Camping Equipment (EC)

Skis/Winter Equipment (EC)

Canoes (EC/BC)/Kayaks (EC)

Paddle Boards (EC)

Bike Rentals (EC)

Disc Golf (EC/BC)

Hiking trails – Putnam Park (EC)/Cedarside (BC)
Aquatics at McPhee

Hydro-Aerobics

Open Swim

Swim Lessons

Walking Routes (Indoor & Outdoor)

Discounted Arts Event Tickets (EC/BC)

Free Sports Event Tickets (EC/BC)
Bouldering & Climbing Wall – Hilltop Center

Archery Range—Hilltop Center

Basketball/Tennis Courts – Upper Campus

Zumba – Hilltop Center

Ropes Course (EC)

Woodland Theater and Summer Cinema (EC)
When you're hungry
There's a variety of places to grab a bite of great food on campus!
Davies

Marketplace – International Variety
The Dulany Inn
Erbert & Gerbert's
Sushi DO
The Cabin
Hilltop

Riverview Café
Hilltop Market
Freshens

Centennial
Additional resources for Barron County
Places to visit
Joel Salter Gallery (Fine Arts)

Campus Library

Veteran's Center (Meggers)

Tropical and Succulent Plant Greenhouse (Ritzinger)

Japanese Friendship Garden
For Your Health
Fitness Center (Gym)

Meditation room (Library)
Professional Development
Foundation Educational Assistance Through Scholarships (EATS)

Thursday at the U Lecture Series
For the Fun of it
Ping Pong – Student Center
When You are Hungry
On Campus Dining— Student Center

Riverside Cafe
Riverside Coffee & Bookstore