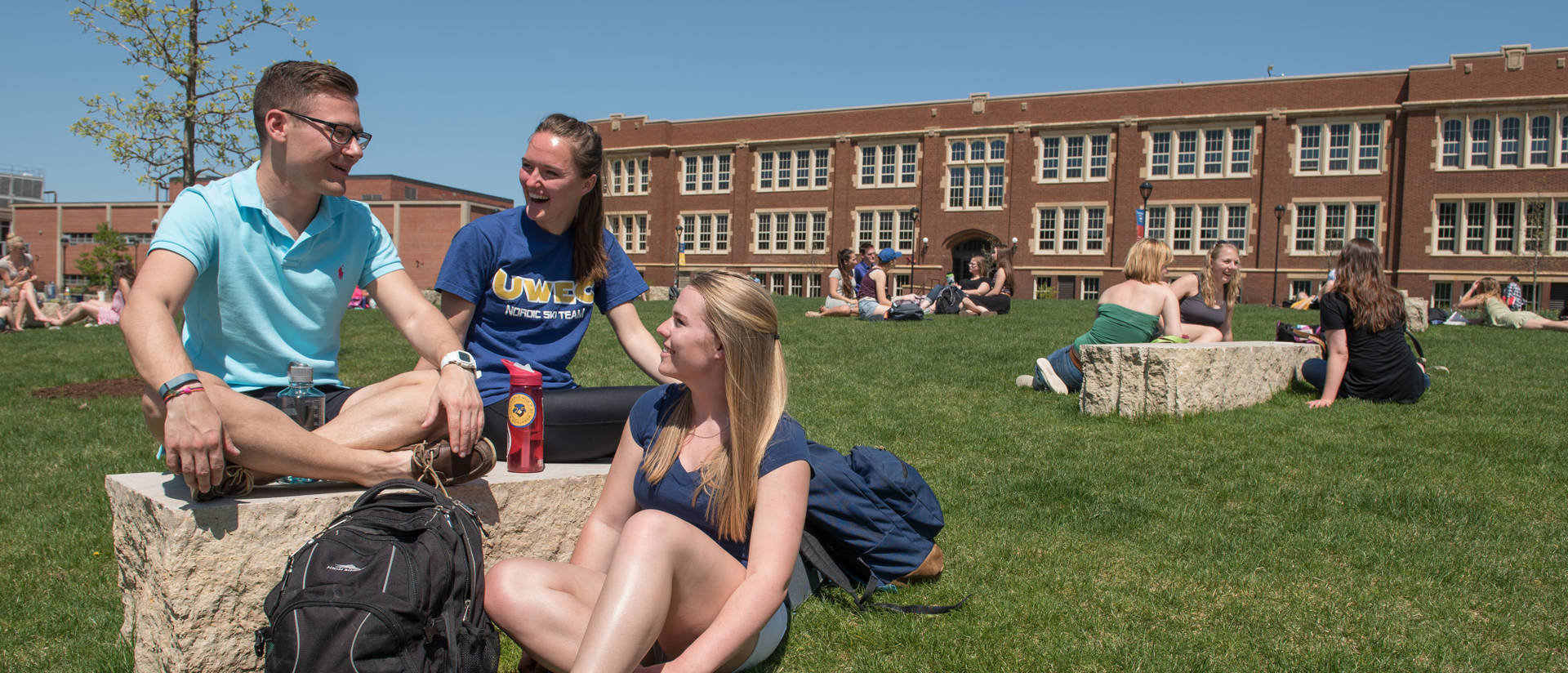 Navigate your first year with ease
The First Year Experience provides two great in-class opportunities that are just for first year students! These opportunities are called First Year Only courses (FYOs) and Blugold Learning Communities. Explore your options for each here!
First Year Only
First Year Only (FYO) sections strictly enroll first year students. Your FYO will have a dedicated faculty member and a student mentor who is there to answer your questions, announce upcoming events, and help you navigate UW-Eau Claire.
First Year Only - Fall 2022

Business Administration 180: Foundations for Success in Business


Chemistry 106: General Chemistry I Laboratory


Chemistry 115: Chemical Principles

Communication Journalism 201: Introduction to Interpersonal Communication


Communication Sciences and Disorders 150: Introduction to Communication Sciences and Disorders

Environmental Studies 101: Sustainability Basics and Beyond

Gen 250: Academic and Career Exploration


History 114: United States History Since 1877


History 124: World History to 1500

Interdisciplinary Studies 190: Leadership for a Better World


Kinesiology 200: Orientation to Kinesiology


Kinesiology 294: Anatomical Kinesiology


Physics 100: Physical Science

Physics 211: General Physics

Political Science 110: American National Politics


Psychology 100: Introduction to Psychology

Religious Studies 110: Basic Issues in Religion

Social Work 100: Introduction to Social Welfare
General Courses - Fall 2022

GEN 110: Strategies for Academic Success
Designed to assist student development of successful academic and personal strategies necessary to meet demands at the college level by formulating educational goals, examining effective learning strategies, and making informed decisions.
Blugold Learning Communities
First Year students may also consider enrolling in a Blugold Learning Community where students enroll in two courses, linked by a common topic or question. Learning Communities will connect personal experiences and multiple disciplines allowing you to apply knowledge between courses and better understand the value of a liberal education and connect with fellow classmates.
Blugold Learning Communities

Theme: College Connection

In this learning community, first year students will learn about campus resources and opportunities, as well as to practice critical thinking skills by looking at what we mean by "Liberal Education" at UWEC. Students will enroll in a "content area" class, and an IDIS 187 section, sometimes taught by the same faculty member. In the IDIS 187 seminar, students will connect their experiences of transitioning to the university to their learning in it, and to connect the various kinds of learning they will be doing in the first semester (and, we hope, throughout their time in Eau Claire). This will be a supportive, collaborative environment to apply new skills and build community as you transition into your first semester in college.

SEIP 200: Intro to Diverse Learners


AND

IDIS 187: Integrative Seminar


CSD 150: Introduction to Communication Sciences and Disorders (must be a CSD major to enroll)


AND

IDIS 187: Integrative Seminar


ENPH 110: Introduction to Environmental Health

AND

IDIS 187: Integrative Seminar


SW 100: Introduction to Social Welfare


AND

IDIS 187: Integrative Seminar

---

Theme: Exploring Health Professions

In this learning community, pre-health professions majors will have an opportunity to explore the variety of career opportunities in the healthcare field and work with this information as they learn to read and write critically in WRIT 116.

WRIT 116: Blugold Seminar in Critical Reading and Writing

AND

IDIS 187: Integrative Seminar

---

Theme: Information Literacy

In this learning community, students will critically evaluate and reflect upon their own use and selection of information, explore the social, economic and political context in which information is created, consumed, manipulated and used, and conduct research using a variety of resources to support their reading and writing in the Writing course.

WRIT 118: Blugold Seminar in Critical Reading and Writing

AND

IDIS 187: Integrative Seminar