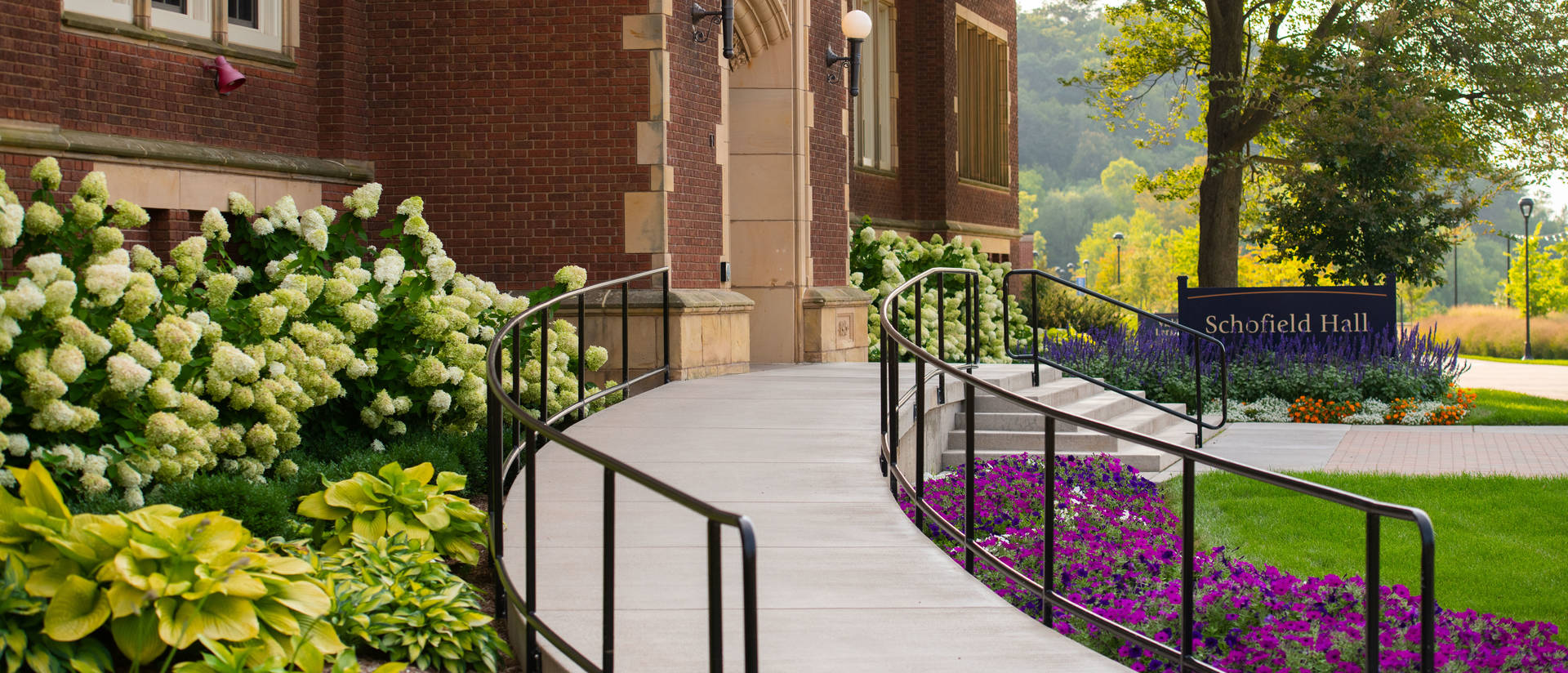 Welcome to Wisconsin's most beautiful campus
We're glad you're here! While on campus, we welcome you to stop by our Admissions Office in the Flesch Family Welcome Center, Monday-Friday from 7:45 a.m. - 4:30 p.m. We'd love to answer any questions you have! Explore our beautiful campus by scheduling a guided tour!
Schofield Hall

The original campus building, constructed in 1916, may look "old school" but the offices inside are all about your future: Administration, Center for International Education, Health Careers Center, Office of Research and Sponsored Projects as well as the Center for Service-Learning.
W.R. Davies Center

The student union offers 170,000 square feet of space for eating, meeting and relaxing. Inside are a wide variety of eateries, Starbucks, University Bookstore, Blugold Card office, Service Center and campus info and, frequently, live music in "The Cabin."

FUN FACT: This is where the Viennese Ball takes place every year — the largest of its kind outside of Vienna.
Zorn Arena

One of the largest event facilities in the area, Zorn Arena is where we cheer on the Blugold basketball teams, take in world-class entertainment through The Forum and Artists Series, attend major concerts and witness that twice-a-year cap-tossing celebration we call commencement.
Vicki Lord Larson Hall (Old Library)

McIntyre Library connects with Vicki Lord Larson Hall, home of the Advising, Retention and Career Center and Blugold Central — your source for financial aid, registration, cashier/bill payment, parking and continuing education services. Learning and Technology Services, Center for Service Learning along with Counseling Services also live here.
McIntyre Library

Here are five stories of resources, study stations, computer labs and meeting rooms. You can check out laptops and video cameras for free and you can even eat and drink here! Like to exercise your body and your mind? Check out the Mind & Body fitness room on third floor. There's a 24-hour computer lab for those all-nighters, and our award-winning University Honors Program makes their home here. To get an overview of campus, check out the campus model found in the front of the library.
Brewer Hall/Kjer Theatre

Connected to Zorn Arena is Brewer Hall, home of Blugold Athletics coaches and the Blugold Beginnings office, and the beloved Kjer Theatre, one of four stages on campus. You can remember how to pronounce it because we "care" about the Kjer.
Lower Campus Residence Halls

Katharine Thomas Hall
Putnam Hall
Crest Wellness Center

Located between Sutherland and Governors Halls you'll find Crest Wellness Center, which includes the expanded and renovated Fitness Center, Student Health Service and the University Police. Crest is also home to the Housing and Residence Life office, located in room 222.
Hilltop Center

The one-stop-shop for fun and food on upper campus houses University Recreation and Sport Facilities, the Billiard Center, the Environmental Adventure Center and the Lookout, a dance club and entertainment space. The main dining facility on upper campus offers a spectacular view. Hang out and watch the big screen TVs, play trivia or board games, climb the bouldering wall or just chill at Hilltop.
McPhee Center/Olson Addition

The McPhee Center/Olson Addition is the only building on upper campus where academic classes are held. The kinesiology and athletic training programs are located here, along with gymnasiums, an indoor swimming pool, the Strength and Performance Center, racquetball and tennis courts, indoor track, climbing wall, dance studio, gymnastics area and wrestling room. Time to stretch out!

FUN FACT: Bikes in the spin class are eco-friendly — they help generate electricity for the building!
Upper Campus Residence Halls
Centennial Hall

Centennial Hall not only houses classrooms but administrative offices for education for equity and justice, English, languages and special education and inclusive practices. Services for Students with Disabilities and the Office of Multicultural Affairs are located here as well as the new Student Success Center (providing writing, math and other academic support). Hungry? Not only can you feed your brain with knowledge but your stomach as well at Einstein Bros. Bagels.

FUN FACT: The Lantern, located on the third floor, offers an amazing view of campus! This is a great spot to look over the Chippewa River.
Haas Fine Arts Center

Across the footbridge is the Haas Fine Arts Center on Water Street. This is a second home to music and theatre arts majors. You may even catch a glimpse of the Blugold Marching Band — the largest marching band among U.S. Division III schools — practicing on the lawn. Great spaces to take in student work include Foster Art Gallery, Riverside Theatre and the concert halls: Gantner and Phillips.
Hibbard Hall

Here you'll and the history, communication and journalism, psychology, mathematics, philosophy and religious studies, political science, sociology, watershed institute and other interdisciplinary departments. The first floor Communication and Journalism Center gives students hands-on experience in television, radio, newspaper and photography, and is home to the award-winning student newspaper, The Spectator, and WUEC-FM radio.
Human Sciences and Services

Take the walking path along the river behind Haas to see the Human Sciences and Services building on Water Street, where you'll find the social work and the communication sciences and disorders departments.

FUN FACT: We have an autism clinic here, one of many university outreach programs giving students experience through community services.
L.E. Phillips Science Hall

L.E. Phillips Science Hall houses the natural and computer science programs, classrooms and labs, as well as greenhouses and a bird museum. You'll recognize it by the big white "bubble" on the roof.
Nursing Building

Tucked away behind W.R. Davies Center, at the edge of a 200-acre nature area is the home of the undergraduate and graduate nursing programs. Take a walk there just for the health of it!
Schneider Hall

This is the home of the College of Business, the department of economics, as well as the Cargill Center, Hormel Foods Team Lab and other state-of-the-art resources for students.
Off Campus Residence Halls
Off Campus Buildings