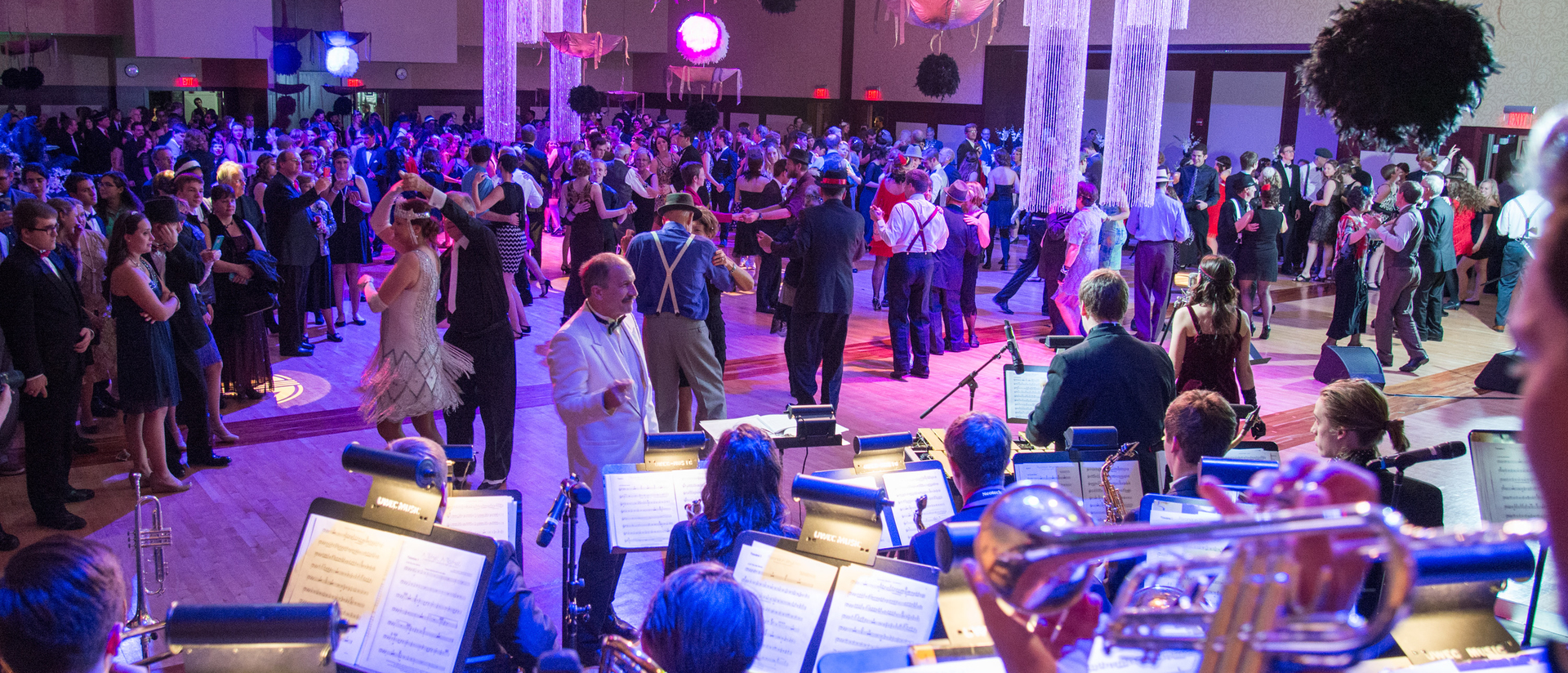 Your wildest dreams come true
University Centers lighting, sound and projection equipment may be reserved and rented on a first-come, first-served basis. Recognized student organizations are given primary consideration whenever possible. To ensure satisfactory service, submit your request at least ten working days prior to the event.
Operation
Event Production Crew technicians are required to operate all sound, lighting, and projection systems. These exceptions may be considered at the discretion of Event Services:
A group that travels with its own sound engineer may be permitted to operate University Centers equipment if Event Services has determined their level of knowledge. A technician will be provided to assist the guest user in the operation of the equipment, and labor charges apply.
University Centers units, University Activities Commission members and volunteers who wish to operate University Centers house lighting and sound equipment must be trained to the level of a Stage Crew Technician II. This training can be arranged through Event Services. Labor charges apply.
In-House Equipment
Many spaces have in-house sound systems, lighting systems and projection systems. Submit requests to use this equipment when reserving the space. All in-house systems require an Event Production Crew technician to activate and operate them, and labor charges apply.
Outside Equipment
Groups may bring their own equipment, but they do so at their own risk. The following restrictions apply:
Event Services is not responsible for outside equipment, including equipment provided by Learning and Technology Services (LTS). Groups may request the assistance of an Event Production Crew technician, but a representative of the group must be present when a technician handles the equipment. Event Services may be unable to assist in operating equipment that is not part of the University Centers inventory. Labor charges will apply.
Safety precautions must be observed regarding sound levels, professional rigging and production practices.
A University of Wisconsin-Eau Claire electrician must perform all direct power tie-ins. Additional charges apply.
UW-Eau Claire policies and Eau Claire city ordinances must be observed.
Estimates
A cost estimate will be given at the time equipment is reserved. All audio-visual systems will require the use of an Event Production Crew staff member and subsequent charges will be applied. Estimates may not always equal the final billing total since unforeseen factors may increase charges; customers will be notified immediately when this occurs.
Late Fees
Equipment or a technician must be scheduled at least ten business days prior to the event. If requests are made fewer than five business days in advance, Event Services cannot guarantee the availability of equipment or staff. Reservations made or cancelled fewer than 24 hours prior to the event will be charged a $25 late fee. Reservations not cancelled with the Event Services office will be charged the full estimated cost for the event.
Transportation
Clients will be charged an additional $25 if their reservation requires that any audio-visual equipment be delivered to buildings other than Davies Center, Hilltop Center, Crest Wellness Center, Schofield Auditorium and Zorn Arena.
Replacement Cost
If any equipment is not returned after an event, the client will be charged the replacement cost of the missing equipment, plus a 10% administrative fee. The replacement cost is available upon request.
Labor
The Event Production Coordinator, a full-time member of the University Centers staff, may be requested to staff an event. All charges for A/V technicians, event monitors and other labor will be assessed according to the rates in the fee schedule.
Rate Structure
Fees are assessed according to a three-tiered rate structure. Each event is categorized based on the nature of the event and its sponsoring entity. See the fee schedule for the definition of each category and corresponding charges. All categories are subject to labor and consumable charges.
Billing
Invoices are processed by the Event Services staff. Please notify Event Services of any billing concerns within 10 business days of the invoice date.