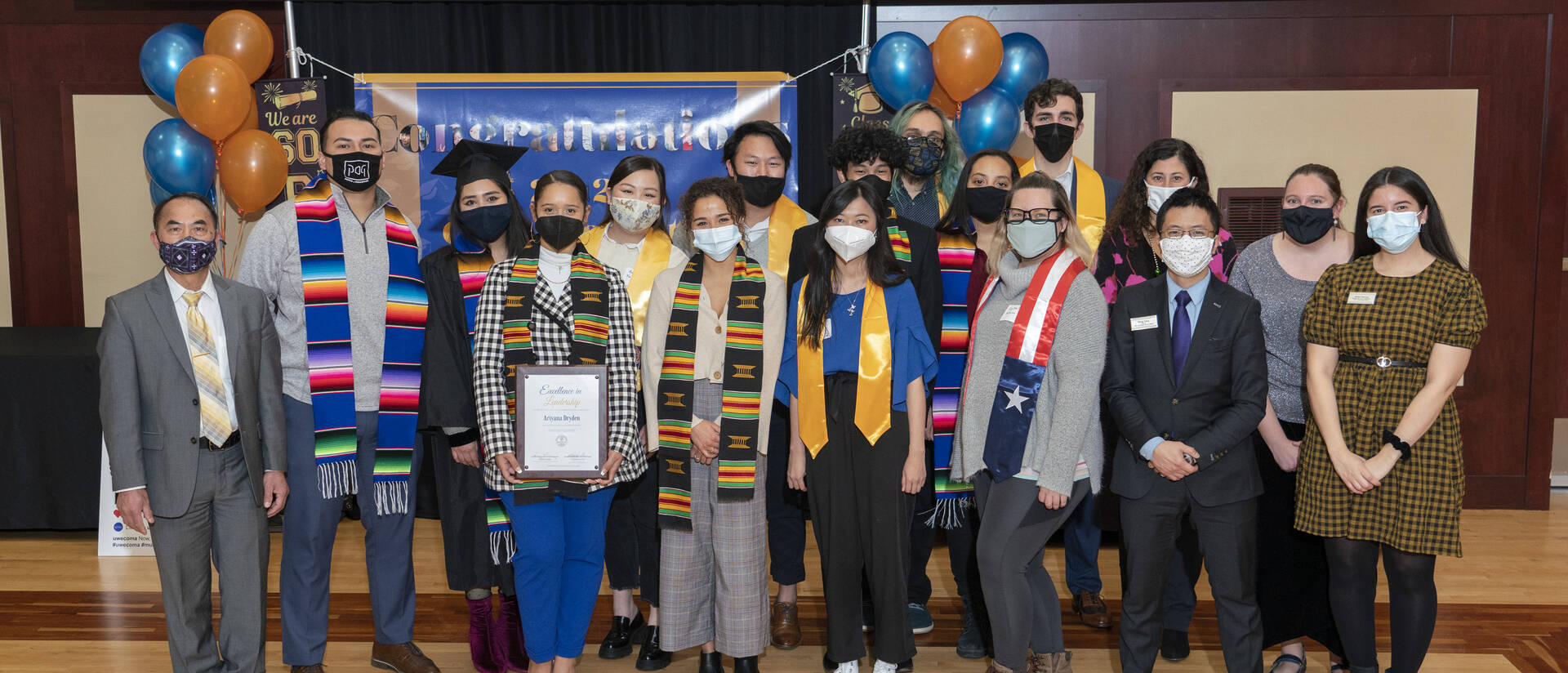 What is EDI about at UW-Eau Claire?
The University has made it a central priority of the campus to increase recruitment and retention of students and faculty of color and from all other marginalized groups. By forming the new division of Equity, Diversity, and Inclusion under the leadership of our vice chancellor, UW-Eau Claire is positioned to address and improve the campus climate in ways that ensure higher levels of success for all.
EDI goals
Provide an exceptional educational experience for students and a campus community where all members at UW-Eau Claire thrive and succeed.
Develop an infrastructure that facilitates community engagement and partnerships across the institution.
Identify specific areas that will allow us to maximize the impact the EDI efforts have on campus.
Ensure that a spectrum of voices are incorporated into the planning and implementation processes in all areas of development.
Centralize goals, activities, and initiatives across the institution.
Provide a vision and strategic direction that will help UW-Eau Claire move forward regarding equity, diversity, and inclusion.
EDI Strategic Plan
The EDI Strategic Plan is a commitment that we make for ourselves — and for the entire campus — to help make our university community more equitable, diverse and inclusive. The EDI Strategic Plan, alongside The 2025 University Strategic Plan and the Recommendations from the Sustainability & Climate Action Task Force, will help us identify the strengths that distinguish us and the areas of focus that can propel UW-Eau Claire ahead.
EDI Rapid Action Task Force Recommendations Update
The EDI Rapid Action Task Force was introduced in November 2019. The goal of this committee was to review the current EDI strategic plan and its implementation outcomes, as well as the recommendations and requests from students, faculty and staff that have resulted from recent racist incidents. After consultation with relevant stakeholders, including administrators, shared governance and student, faculty, and staff groups, the RATF identified specific, immediate actions that can be implemented by the end of the current academic year (May 2020).
While the COVID-19 pandemic shifted the timeline relative to the implementation of the recommendations by the expected May 2020 date, the RATF identified ways in which EDI educational and professional development could be expanded and enhanced in a timely way for students, faculty and staff. The Task Force's work will involve soliciting input from students, faculty, and staff, and learning from aspirational peers' best practices implemented on other campuses.
In Spring 2020, the Vice Chancellor for EDISA, Dr. Warren Anderson, charged an EDI Rapid Action Task Force Implementation Team with the evaluation of the UW-Eau Claire's progress toward the implementation of the EDI RATF's recommendations. This implementation team worked throughout the summer months and a final report is expected on August 3, 2020. Changes to this page will be ongoing in an effort to present the most up-to-date successes related to the outcomes of the EDI Rapid Action Task Force.
Recommendations and Updates
Develop and Implement a Restorative Justice Program

Because UWEC/UWECBC is an institution of higher learning, the philosophy of restorative justice—which focuses on healing for the victims, repairing the harm to the community, and providing an opportunity for the offender to accept responsibility for their actions and learn from their failures—is more congruent than retributive justice to our mission. The Rapid Action Task Force recommended implementing a restorative justice program as the best way to heal the campus and to seek justice in response to past and future acts of injustice.

Update

The Office of the Dean of Students is currently undertaking a comprehensive review of the Code of Conduct to identify gaps, and determine what processes and practices can be shifted to a Restorative Justice/Restorative Practices model

Framework for Restorative Justice/Restorative Practices model will be introduced in Fall 2020, with full implementation in Spring 2021
Plan for the expansion of training for offices and departments to employ Restorative Justice/Restorative Practices will be implemented in the Fall 2020 semester, which will include training for Resident Assistants
Improve Bias Incident Reporting Processes

A bias incident, which is defined as "something a person does, says or otherwise expressed that is motivated by bias related to a person's social identity," can take place in the classroom and outside the classroom. UWEC provides a formal reporting mechanism for reporting bias incidents known as a Bias Incident Report; UWECBC does not. The Bias Incident Reporting Team (BIRT) functions to route Bias Incident Reports to the appropriate office for immediate response and future resolution. Reporting tools are only effective when people know they exist and are familiar with how to use them.

Update

The website has been updated and based on the original RATF recommendations, the BIRT team has made the updates necessary that provides information as well as transparency for the BIRT process

A clearly defined process for following up when a report is submitted has been established, and clearly outlined on the BIRT website
BIRT has developed new training protocol to expand understanding of what BIRT is, and what it is not
Improve Crisis Communication

In light of recent racist incidents on campus, the Task Force conducted a review of key administrative offices on campus seeking information on existing written plans, protocols, and procedures followed when bias/hate incidents occur. With limited exceptions, there are few written crisis communication documents that provide clear guidance on how to coordinate communication between offices and personnel in response to bias incidents or how to communicate such events to the campus community and broader public.

Update

Expanded opportunities within IMC to share critical information with the greater UWEC community, including:


Weekly COVID-19 Briefings, including routine updates to safely open the University for face-to-face learning, information about furloughs, and financial status of UW-Eau Claire

Expansive statements related to social justice issues, locally and nationally by Chancellor Schmidt and Vice Chancellor for EDISA, Warren Anderson
Transparent communication of findings of major investigations – i.e. – Vice Chancellor for Enrollment Management
Expand & Enhance EDI Training for Students, Faculty & Staff

To create a more inclusive and welcoming campus for all students, faculty, and staff, it is important to implement effective training and professional development options for both new and existing members of the community. Research has shown that students, faculty, and staff from predominantly white institutions (PWI) rely heavily on the assumptions that their diverse colleagues and students are experts and therefore responsible for teaching the rest of the university population about EDI (Jackson, Leslie). With this assumption in mind, universities create an environment for certain students and staff to benefit more than others. Campus leaders at UWEC/UWECBC need to intentionally allocate resources (human, financial, and otherwise) to create EDI training and development options for all students, faculty, and staff, given that our primary values and goals are EDI focused.

Update

Tier 1 EDI training has been implemented, and required for all incoming first-year students to UW-Eau Claire
UW-Eau Claire Virtual EDI student conference developed to advance Tier II EDI trainings
Policies in development to expand required EDI training for all current students at UW-Eau Claire
Updated Faculty Diversity Fellows program will be implemented in Fall 2020 semester, which will further engage faculty in the development and implementation of comprehensive EDI training
The creation of the Center for EDI Training, Development, and Education to be formally announced in Fall 2020
Bolster Recruitment and Retention Efforts

UW-Eau Claire's 2016-2020 Strategic Plan calls for the campus to "live our commitment to equity, diversity, and inclusion" by increasing campus diversity and improving the campus climate. The plan imagines campus in 2020 as a place where "students thrive regardless of their race, ethnicity, gender identity or expression, sexual orientation, ability, mental health status, nationality, religion, or economic background. UW-Eau Claire students, faculty, and staff are united in a shared commitment to educational equity and to social justice. We all engage daily in the hard work of creating a vibrant, supportive, anti-racist campus."

Update

Major emphasis of next Enrollment Strategic plan focuses on the recruitment, retention, and success of students belonging to historically underrepresented populations
Expanded opportunities to engage in culturally relevant and responsive EDI training, development, and education
The creation of the Center for Racial and Restorative Justice to be formally introduced in Fall 2020, which will focus on key aspects related to the retention and engagement of students, faculty, and staff of color
Expanded access to student health and mental health through tele-health implemented in Counseling Services and Student Health Service
Update and Redesign EDI Web and Resources

In order to cultivate a culture of diversity, it is important to communicate values and priorities as well as monitor progress made toward aspirational goals. A university website is one of the primary ways prospective students, faculty and staff understand a university's mission. Campus community members also rely on institutional websites on a daily basis. It is critical that UWEC/UWECBC improve its online EDI communication.

Update

Preliminary steps taken to evaluate efficiency of EDISA main webpage. Vice Chancellor Anderson is working with EDISA
A work group has been identified to take the lead in working with IMC to redesign the current EDISA website once all gaps and inefficiencies have been identified
Specific departments within EDISA utilizes social media to communicate and engage with UW-Eau Claire students, which will be expanded to a divisional level
A direct link to the BIRT report/process has been to the EDISA main webpage
Support Students, Faculty & Staff After a Bias/Hate Incident

Experiencing acts of bias and racism can cause mental health trauma. However, students of color are less likely than their white counterparts to seek counseling. A proactive plan to engage students of color and other marginalized students is warranted. In addition, the University has in place opportunities for faculty and staff to gain EDI training in tiered workshops. To better prepare first responders, additional specific, targeted EDI training is needed.

Update

A comprehensive protocol, including real time messaging, is being developed to ensure that resources can be shared with targeted audiences or the entire University when Bias/Hate incidents occur
The BIRT process has been streamlined to ensure a rapid response to individuals targeted in Bias/Hate incidents
Resources regarding supporting community members when Bias/Hate incidents occur have been identified, and will be prominently displayed on the newly designed EDISA main webpage
Mandatory trainings in development for students, faculty, and staff, which will be implemented during the Fall 2020 semester
Update Handbooks and Codes of Conduct

The non-academic conduct of UWEC/UWECBC students is governed by the University of Wisconsin System Administrative Code, Chapter 17. This code is a System-wide policy created and regulated by the state legislature. Chapter UWS 17 defines non-academic conduct, provides UWEC/UWECBC procedures for effectively addressing conduct, and offers educational responses to conduct. UWEC/UWECBC's current Student Code of Conduct also includes additional policy statements and guidelines to further inform students of appropriate standards of behavior. Though a policy statement exists regarding "Discrimination, Harassment, and Retaliation," there is no specific language in the Blugold Student Code of Conduct regarding bias and hate incidents. Auxiliary handbooks currently linked to the Blugold Code were also reviewed by the Task Force and were found to lack language regarding bias and hate incidents.

UWEC's 2016-2020 Strategic Plan called for "cross-divisional, proactive strategies to significantly reduce the number and impact of bias incidents on campus." To that end UWEC/UWECBC must clarify its expectations for students in the Blugold Code and auxiliary handbooks by including language that condemns and explicitly prohibits hate and bias incidents. The UWEC Blugold Code clearly states that "while many of UW-Eau Claire's policies and regulations parallel federal, state, and local laws, UW-Eau Claire standards may be set higher." Adding strong language to its codes of conduct is an opportunity for UWEC/UWECBC to be a leader in creating the "meaningful, equitable, anti-racist change" that it sought in the last strategic plan.

Update

Staff in Dean of Students Office is currently in the midst of a comprehensive review and update of existing handbooks and language utilized in the current Code of Conduct
Updates to the student Code of Conduct will include BIRT processes, information on Restorative Practices, and language clearly defining EDI and expectations
Offices under the umbrella of the Dean of Students are currently engaging in a comprehensive review of operational practices and procedures utilizing the CAS Standards, and will make necessary changes based on the outcome of this internal review
Foster Campus and Community Dialogue

While consensus exists that our campuses must become a more inclusive environment, there have not been significant sustained efforts to engage a culture shift through which inclusivity will emerge as a norm. Proactive opportunities for campus and community members to connect with each other to learn about identities and inclusivity will create spaces in which all individuals can explore their identities, learn about others, and refrain from placing undue burden of members of marginalized identity groups. An overarching framework of structures for learning and dialogue will lend itself to the emergence of inclusivity as a campus norm for UWEC/UWECBC.

Update

Expanded opportunities offered through EDI Tiered training for faculty and staff
A broader affinity-group model has been developed, and will be implemented during the Fall 2020 semester, which will, in part, provide opportunities for targeted engagement based on specific identities
An expanded initiative related to community engagement for students belonging to historically underrepresented populations will be implemented in Fall 2020
Expanded initiatives under the umbrella of the Center for Racial and Restorative Justice and the Center for EDI Training, Development, and Education have been developed and will be implemented throughout the 2020-2021 academic year