COVID-19 Testing, Exposure and Quarantine Information
Learn more about COVID-19 testing and protocols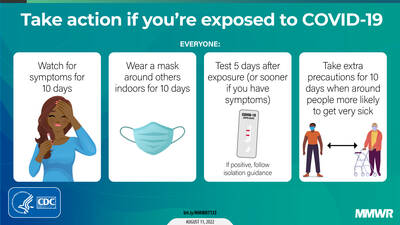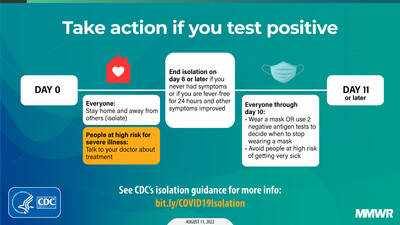 We are doing everything we can to limit the spread of COVID-19 on campus, but if a student or member of our staff is exposed to the virus, there are important guidelines in place to help prevent further transmission. We are continuing to coordinate with local health officials, as well as consulting CDC guidelines, to determine how best to keep our campus safe and healthy.
COVID-19 testing information
Students who have been exposed to COVID-19 — or are experiencing symptoms of COVID-19 — should be tested for COVID-19. Faculty and staff should contact their health care provider if they are experiencing symptoms of COVID-19.
How do we define exposure?
Exposure is considered contact with someone infected with SARS-CoV-2, the virus that causes COVID-19, in a way that increases the likelihood of getting infected with the virus.
Who is considered a close contact?
Close contacts are someone who was less than 6 feet away from an infected person (laboratory-confirmed or a clinical diagnosis) for a cumulative total of 15 minutes or more over a 24-hour period. For example, three individual 5-minute exposures for a total of 15 minutes.
COVID-19 symptoms include:
Fever or chills
Cough
Shortness of breath or difficulty breathing
Fatigue
Muscle or body aches
Headache
New loss of taste or smell
Sore throat
Congestion or runny nose
Nausea or vomiting
Diarrhea
This list does not include all possible symptoms. SOURCE: CDC
Exposure, isolation and quarantine information
If you were exposed to COVID-19

Immediately

No quarantine

You do not need to stay home unless you develop symptoms.

Get tested

Even if you don't develop symptoms, get tested at least 5 days after you last had close contact with someone with COVID-19.

Watch for symptoms

Watch for symptoms until 10 days after you last had close contact with someone with COVID-19.

If you develop symptoms

Isolate immediately and get tested. Continue to stay home until you know the results. Continue to wear a mask around others.

Take precautions until after Day 10

Continue to wear a mask for 10 full days any time you are around others inside your home or in public. Do not go to places where you are unable to wear a mask.
Avoid travel.
Avoid being around people who are at high risk.
If you tested positive for COVID-19 or have symptoms, regardless of vaccination status

Immediately

Isolate

Everyone who tests positive must isolate for five days. We have rooms available for residence-hall students and we encourage off-campus students to avoid any contact with others as much as possible. Wear a well-fitted mask if you must be around others in your home.

After isolation

Infected individuals with no symptoms or resolving symptoms and no fever may end strict isolation after 5 full days (isolation ending on day 6) but must wear a mask at all times when leaving their residence or around others. This means no dining with others and no other mask-free activities until after 10 full days (strict masking ending on day 11).
Additional information
For students
Classes will be offered in the format indicated in the class schedule. If you become ill or test positive, contact your instructor in a timely manner to determine how you should remain current on content and assignments during your absence. If an instructor becomes ill, there may be a temporary adjustment to course meetings, so be sure to check your email regularly. We appreciate your flexibility and understanding.
For faculty and staff
If a student is ill and/or tests positive for COVID-19, instructors will assist them in remaining current on content and assignments while they are absent from class. Faculty are not required to contact other students.
If you are required to quarantine and the nature of your job does not allow you to work remotely you can use leave balances, including sick leave, for quarantine. Employees are encouraged to speak to their supervisor if they have any questions regarding paid leave.