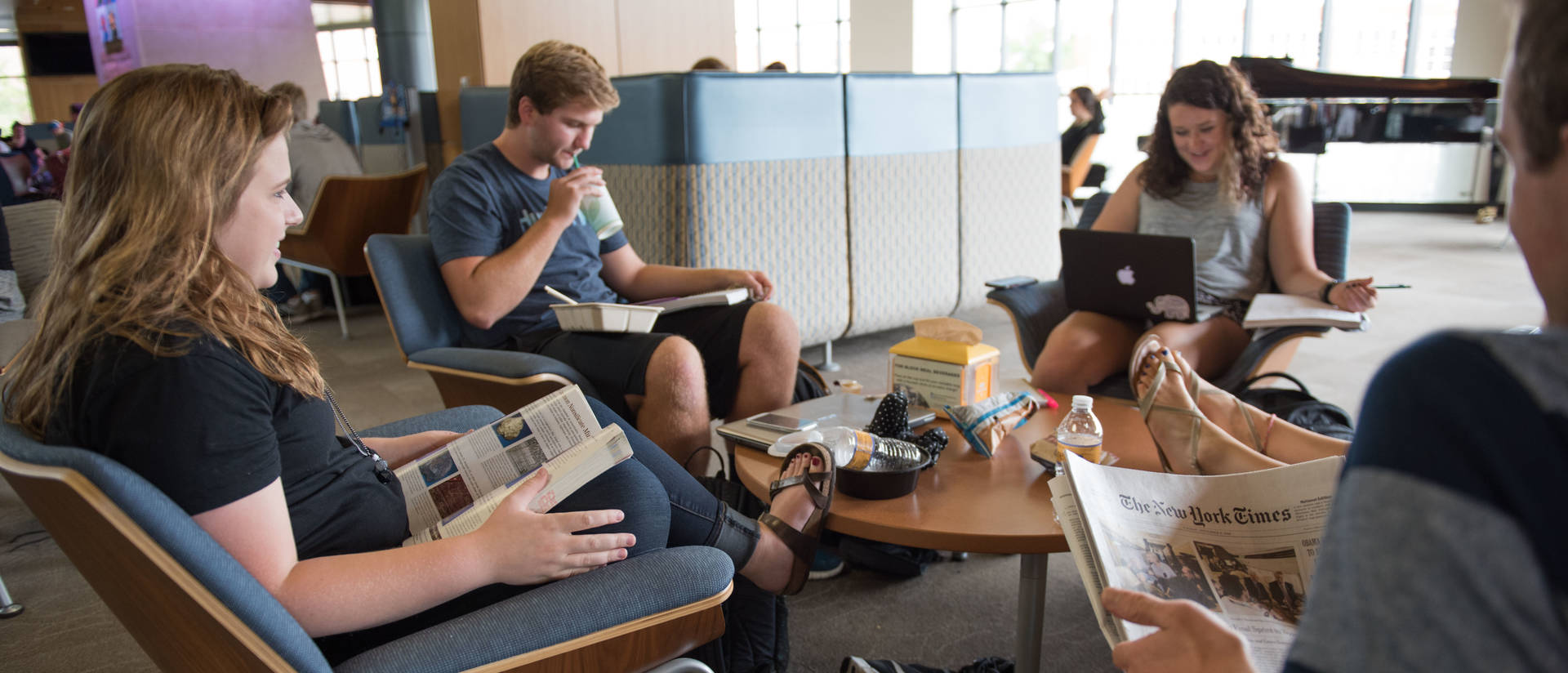 The Davies Student Center provides services that are essential to campus life — and services that simply make campus life easier.
ATMs

Are located in Davies Center at the Northeast doors and in Hilltop Center near stairs to the cafeteria.
Banking

In August 2012 a U.S. Bank branch opened in Davies Center. Located in the Service Center complex in the east lobby, the branch bank is open weekdays from 8 a.m. to 5 p.m.

The US Bank branch is located on the first floor of Davies Center.
Books

The University Bookstore is located on the first floor of Davies Center. The Bookstore runs the textbook rental program that is funded by a designated portion of undergraduate tuition. The bookstore also sells course books that are required or recommended by instructors, and offers a buyback program. A variety of course-related and general interest reading materials, licensed emblematic clothing, greeting cards and school supplies are available.
Campus Information/Service Center

The central source of university information, the Service Center plays a key role in university communication, acting as the switchboard for the campus.

Located in the east lobby, first floor, of Davies Center, the Service Center offers one-stop convenience for many essential services including event ticketing, and postal services. The area provides valuable student employment experiences that focus on responsibility, communication and customer service.

For more information, call 715-836-INFO (4636) or toll-free 800-949-UWEC (8932).
Catering

From an informal morning coffee for ten people to an elaborate evening banquet for more than 650 guests, the Blugold Dining staff is available year-round to help plan your catered event. Alcohol service may be provided through Blugold Dining at receptions, dinners and other catered events. The UW-Eau Claire dining service contractor has exclusive rights to provide all types of food services on campus.
Copies, Faxes and Scans

Black and White Copies

Single sided > 10 cents
Double sided > 15 cents
Up to 50 copies
Larger orders are referred to Printing Services

Faxes

First page > $1.50
Each additional page > 50 cents

Scanning to Email

First page > $1.50
Each additional page > 50 cents
Black and white only
Dining

Blugold Dining offers a great range of dining options to the university community at a variety of campus locations. The university's dining partner since 2002, Sodexo demonstrates innovation in its sustainable practices on the UW-Eau Claire campus.
Event Planning

Event Services staff work with the university community to plan conferences, meetings and other events on campus, and works with offices and departments in executing programs that support instruction and co-curricular activities. Wedding receptions and dinners, holiday get-togethers, business and professional conferences and political rallies are among the events that may be arranged through Event Services. Staff will help plan and execute all aspects of the event — including room selection, floor plan, audio-visual support, food and beverage arrangements and decor.
ID Cards

Students, faculty and staff members receive their official university photo ID cards at Blugold Card Office. The Blugold Card Office provides access to the meal plan and the optional Blugold Account. It is required for renting textbooks and for borrowing materials from the library, and has many uses campuswide. Showing a Blugold Card provides free use of the Eau Claire city bus system. Through the university's banking partnership, students also have the option of using their Blugold Cards as ATM or signature-based debit cards for transactions on and off campus.
Lost + Found

The Service Center is the central campus lost and found. Items are marked according to date received and location found, and Service Center staff attempt to identify and contact owners. Unclaimed items are stored in a secure location at the Service Center for a minimum of 30 days before they are donated to a nonprofit charitable agency. Lost or found state property, and contraband (weapons, illegal drugs), are handled through the University Police.
Meal Plans

If you live in a residence hall on campus or in one of the student hotels, you must purchase an on campus meal plan. Four meal plans are offered for on-campus residents and 3 that are tailored for off campus students, faculty, and staff.
Student Organizations

The Student Organizations and Leadership Center located in Davies 220, is home to more than 230 student organizations and the Student Senate. The complex provides workspace, organization mailboxes, lockers, meeting rooms, computer access, a workshop and staff support.
Postal + Parcel Services

USPS Services
The Service Center offers a range of USPS services.

First Class Mail
Priority Mail
International Mail (under an ounce)
Certified Mail
Insured Mail
Return Receipt
Postage Stamps
U.S. Postal Service Priority Mail shipping boxes and envelopes are available at the Service Center free of charge.

Pick up times are Monday through Friday at 2:00 p.m., at the Service Center and at the drop box located outside the southeast entrance to Davies Center.

A variety of envelopes are also sold at the Service Center for your convenience.

Business envelopes
6 × 9 envelopes
9 × 12 envelopes
6 × 8 bubble envelopes
9 × 13 bubble envelopes
12 ×12 bubble sheets
12 x 6 x 6 box
16 x 12 x 10 box
Printing

University Printing Services offers affordable and convenient printing and production services to the university community and the public. Student graphic designers are on staff. Printing Services creates custom course materials for academic departments, and provides a fleet of convenience copiers in buildings campus-wide. As the university's designated agency printing manager, Printing Services ensures that all off-campus printing using state funds is purchased in accordance with state law and policy. Printing Services is located in the lower level of Schofield Hall.
Reservations

Event Services reserves campus spaces for non-academic activities, and has an array of event technology available.
Special Needs

Special consideration is given to the deaf and hard of hearing population. Forum presentations are interpreted; assistive listening devices are available in most venues. Blugold Dining staff works with meal plan participants who have special dietary needs. Electric height-adjustable email workstations are provided in Davies Center for those in wheelchairs.
Tickets

Tickets for campus events are sold by the Service Center, the university's centralized ticket office. Tickets are sold at the Service Center counter, online, by phone, by mail and at event box offices.
UPS Service

A UPS Drop Box is located outside the southeast entrance to Davies Center. This self-service unit is accessible 24 hours a day, seven days a week.

Please visit www.ups.com to schedule a pick-up from your home/office, calculate costs and print shipping labels, or for more UPS related information.

A variety of envelopes are also sold at the Service Center for your convenience.

Business envelopes
6 × 9 envelopes
9 × 12 envelopes
6 × 8 bubble envelopes
9 × 13 bubble envelopes
Vending Machines

Vending machines are located throughout the Davies Center building.

The Service Center issues refunds for up to $2 for vending machines located in Brewer Hall, Hibbard Hall, Human Sciences and Services, Schofield Hall and Davies Center. Refunds exceeding $2 require the completion of a vending request form. Comments and concerns may be e-mailed to dcvending@uwec.edu.

Refunds are not given for change machines, copy machines and telephones.
Weddings

We invite you to share this important day with us at the Davies Center, which provides services for flexible possibilities for ceremonies, pre-reception family socials, on-site catering, receptions, gift openings and photography opportunities. Our creative staff will help you design a wedding that is distinctly yours.
Dining and Bookstore Hours