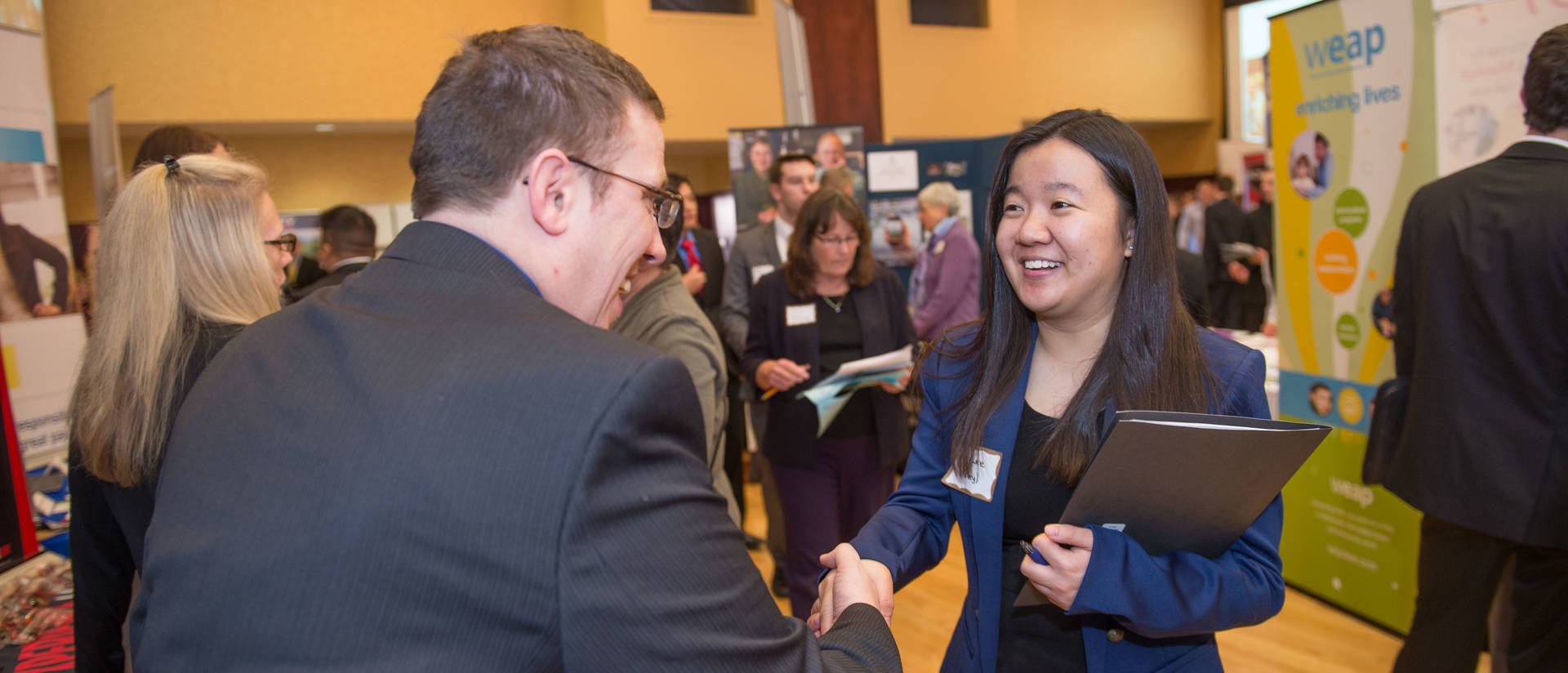 An interview offers you and an employer the opportunity to learn whether or not there is a "fit" between you and the interviewer's organization. The ideal interview is a two-way street, allowing the employer to market the job to you and permitting you to elaborate on the information contained in your resume. The invitation to interview means that, in general, you are qualified for the job; however, the employer wants to determine if you are the best qualified candidate.
The interview process
Regardless of industry, most employers are interested in the following:
Communication Skills (Written and Verbal)
Interpersonal and Teamwork Skills
Leadership Qualities/Potential
Knowledge of the Industry
Organizational Skills
Analytical and Problem-Solving Ability
Depending upon the nature of the job and the organization, other competencies may be evaluated more rigorously. Pay attention to the qualifications described in the job description, as these are attributes that are likely to be evaluated during the interview process.

Nonverbal communication can give as much information, if not more, than words. Be conscious of slouching back in a chair (boredom?), twiddling your thumbs (nervousness?), and crossing your arms (hostility?). If you are asked a particularly tough question, maintain your composure and take extra time to think before replying. Maintain good eye contact, which conveys confidence and honesty.
During the interview, listen carefully to the interviewer and answer the question that is asked. Do not be afraid to ask for an explanation if you don't understand the question. It is fine to take a few moments to think before answering difficult questions, so do not rush into your answer until you are ready.
Preparation tips
Preparation is vital. While you cannot anticipate every question, you can prepare yourself to make the most of whatever you are asked.
Know yourself

Employers aim to fill jobs with qualified candidates who know how their skills support their job objectives. Even if you do not know exactly what you want to do, you have to be able to confidently tell an employer why you are interested in this particular job at this time.

Think about your own abilities and experience in relation to an employer's needs and be able to discuss why you want to work in this type of industry, division, and/or company. Identify your strengths in relation to each job for which you interview. Review your resume for experiences - whether they are related to education, work, or activities - that you can use as examples to support your skills. Anything on the resume is fair game, so also be prepared to describe or explain any item on it.
Know the organization and the industry

Know the organization, the industry, and the position. Spend time reviewing organization websites, familiarizing yourself with the organization's divisions, and mission statements. Learn about the industry, what are the most important trends in this field and how is the economy affecting the industry. Know who the key players are and be able to speak the "language of the industry".

Talk to alumni currently working at the organization to get more detailed information about what it takes to be successful in the workplace. You are not expected to be an expert in the particular field, but you should have enough knowledge to formulate meaningful questions to present to the interviewer. You can usually get an overview of the organization, its products and/or services, and its mission from its website or annual report.
Know what to ask

Prepare questions to ask the interviewer. You want to evaluate the organization and the opportunities provided by this position in order to determine whether or not you are even interested. In addition, the questions you ask convey interest and enthusiasm; if you fail to ask anything of the interviewer, they might assume you are not particularly interested in the job or the organization.
Prepare for that interview with Big Interview

Career Services and Big Interview have teamed together to bring UW-Eau Claire students an innovative learning tool that will enhance your job interviewing skills and develop an edge over the competition.

Big Interview is an online system that combines training AND practice to help improve your interview technique and build your confidence.

Big Interview's mock interview system is available to use with a webcam, smartphone, or tablet. Create an account for Big Interview at: uwec.biginterview.com.

Meet with a Career Counselor by scheduling an appointment in Handshake. You can also stop by the Advising, Retention + Career Center in Vicki Lord Larson Hall 2100 or call 715-836-3487 to schedule an appointment.
Schedule appointment with a career counselor

During a mock interview appointment, you can review your Big Interview video with a Career Counselor and get feedback on your responses. Another option is to meet with a Career Counselor for a traditional mock interview. This interview will be identical to a real interview, from the opening to the closing handshake. You will dress the part and answer questions about yourself and how you will fit into the company. The only difference will be that the Career Counselor will provide feedback. Schedule a mock interview appointment on Handshake!
Interviewing tips

Take time to think of responses. Silence is OK - Interviewers are used to moments of silence when you are thinking of an answer.
Turn cell phones off. Getting a phone call in the middle of an interview does not impress the employer. Avoid the disruption by turning your phone off or not bringing it at all.
Address the employer. Always have direct eye contact when the employer is asking a question or you are answering. This shows that you are confident and self-assured.
Prepare questions to ask the employer. You are not the only person that answers questions during an interview. At some point, you will be allowed to ask the interviewer questions about the position and organization.
Send a thank you letter. Immediately following the interview, write a thank you letter to the interviewer. This allows you one more opportunity to make a good impression. It also reminds the interviewer of your interest in the organization and role.
Dress for success

Be professional and dress appropriately in the workplace. The way you dress for work reflects your professionalism. It is important that you research the company and reflect their standards. If you have important meetings to attend or you are giving a presentation, business professional is a smart choice. Otherwise, business casual may be perfectly acceptable.

An interview for a job or internship is your chance to make a lasting impression. This first impression is important and dressing appropriately for the part can make a lasting impression. It is recommended to dress in business professional attire for all job and internship interviews. However, it is important that you research the company you are interviewing with to get a better understanding the image expected from you.