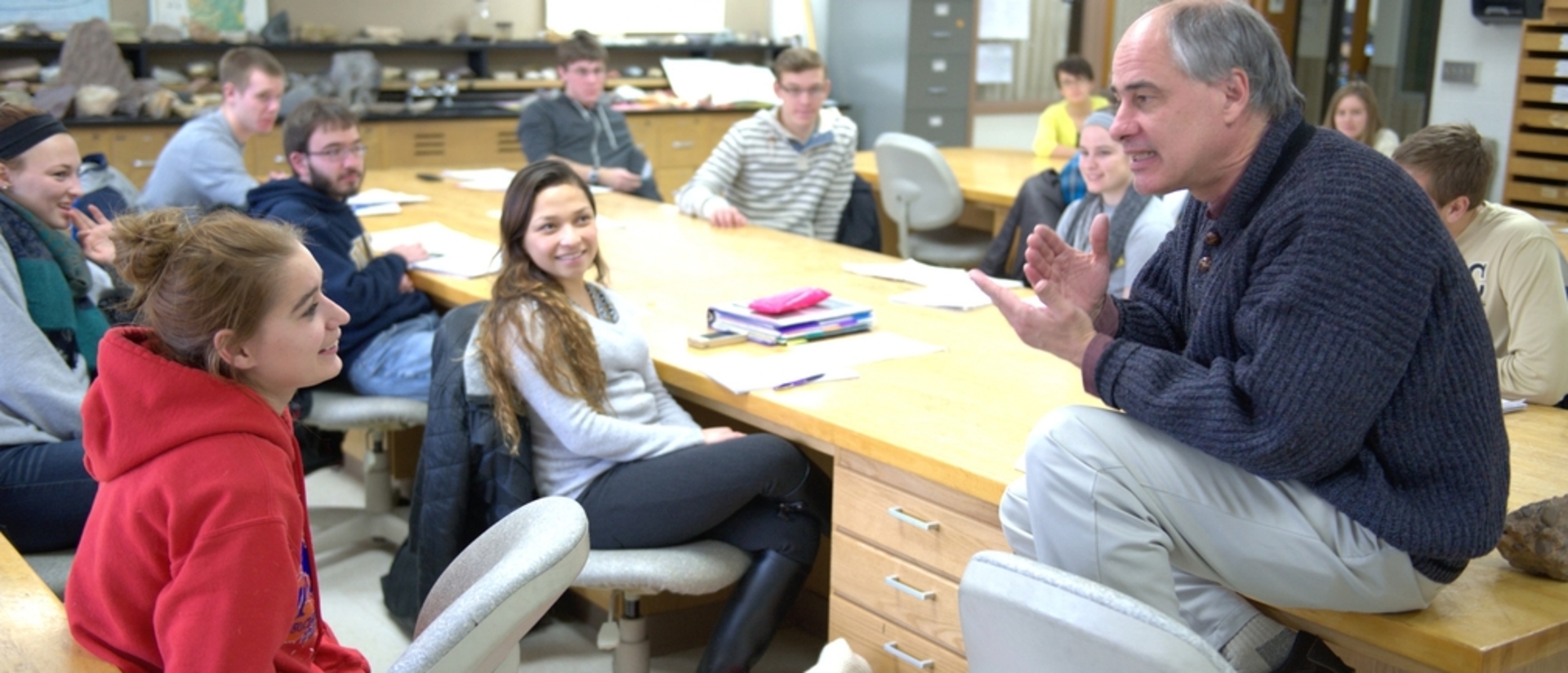 Learning done differently
Most UW-Eau Claire Honors students will identify Honors courses as the center of the program. Honors courses are small, interdisciplinary, usually discussion-based, and often taught with innovative or experimental teaching methods that put you at the center of what happens in class.
Want a sneak peek at what an Honors class is like?
Hear what Blugolds have to say about Song & Symphonies, one of the most popular classes ever taught in the program—and get an excellent look at the type of learning and growth that students can expect in an Honors course. Although the original instructor featured here, Dr. Jerry Young, has retired, Songs and Symphonies lives on, now taught by Professor Jacob Grewe.
Explore the variety available to Honors students
As an Honors student, you can take courses that are not available to all undergraduates. Check out the examples below, then download the course catalogs to see the full list of current options.
Honors colloquia

These are interdisciplinary courses designed especially for Honors students. They encourage you to make connections across disciplines and allow you to sample knowledge outside the normal sphere of your major while engaging in amazing discussions with your classmates.

Example of Honors colloquia

HNRS 132: Integrative Studies in Cultural Identity. This examination of the current social climate in America is taught by faculty from three departments. It provides a collegial atmosphere to support discussion of how research from multiple academic fields can shed light on emotionally charged debates about cultural identity. Through discussions, readings, film, and research, this course hopes to prepare students to respond thoughtfully to the influence of cultural identity over enduring social questions and everyday social life.

HNRS 314: Atmospheric Change - Science, Ethics, and Policy. This introduction to atmospheric chemistry emphasizes ozone depletion and global warming. Students also examine the ethical, political, and economic aspects of these issues and evaluate current policies regarding them.
Honors electives

Another benefit of being an Honors student is the ability to enroll in dedicated Honors sections of regular departmental courses. Recent courses have drawn from a wide variety of fields, including accounting, biology, chemistry, communications, economics, geography, geology, philosophy, political science, sociology and statistics.

Examples of Honors electives:

ACCT 201: Honors Principles of Accounting I
CJ 202: Honors Fundamentals of Speech
GEOG 111: Honors Human Geography
PHIL 200: Honors - What is Happiness?
POLS 110: Honors American National Politics
Honors seminars

The Honors Program offers four 1-credit Honors seminars. HNRS 100* and HNRS 400 are required; the mentoring and tutoring seminars are optional.

HNRS 100: First-Year Honors Seminar
This seminar provides an introduction to UWEC and to the expectations of an Honors baccalaureate degree. You will explore the value of a liberal education, the roles of the University Honors Program, and the skills and knowledge needed to be an educated person.

HNRS 400: Senior Honors Seminar
This capstone will prepare you for post-graduate opportunities. Students explore their undergraduate experiences and discuss the value of a liberal education and an Honors education.

HNRS 410: Mentoring in Honors
Assist in instruction of HNRS 100. Open to juniors and seniors with permission of the Director of the University Honors Program.

HNRS 420 Tutoring in Honors
Assist in instruction of an Honors course you have previously completed. Open to juniors and seniors with permission of the Director of the University Honors Program.

*First-year students may substitute the HNRS FYE course for HNRS 100.
Special experience courses

Students in the University Honors Program also have the possibility of earning credit for special experience courses such as directed study, independent study, internships, study abroad, or a senior Honors thesis. You will be able to set this up by speaking with the Honors office staff.
The best parts of the Honors Program are the interesting courses taught by absolutely passionate faculty; the opportunity to come together with high achieving, critically-thinking students from a variety of disciplines; and the opportunities the faculty created for us to have interesting, innovating projects within our coursework to fulfill something new and exciting within ourselves.