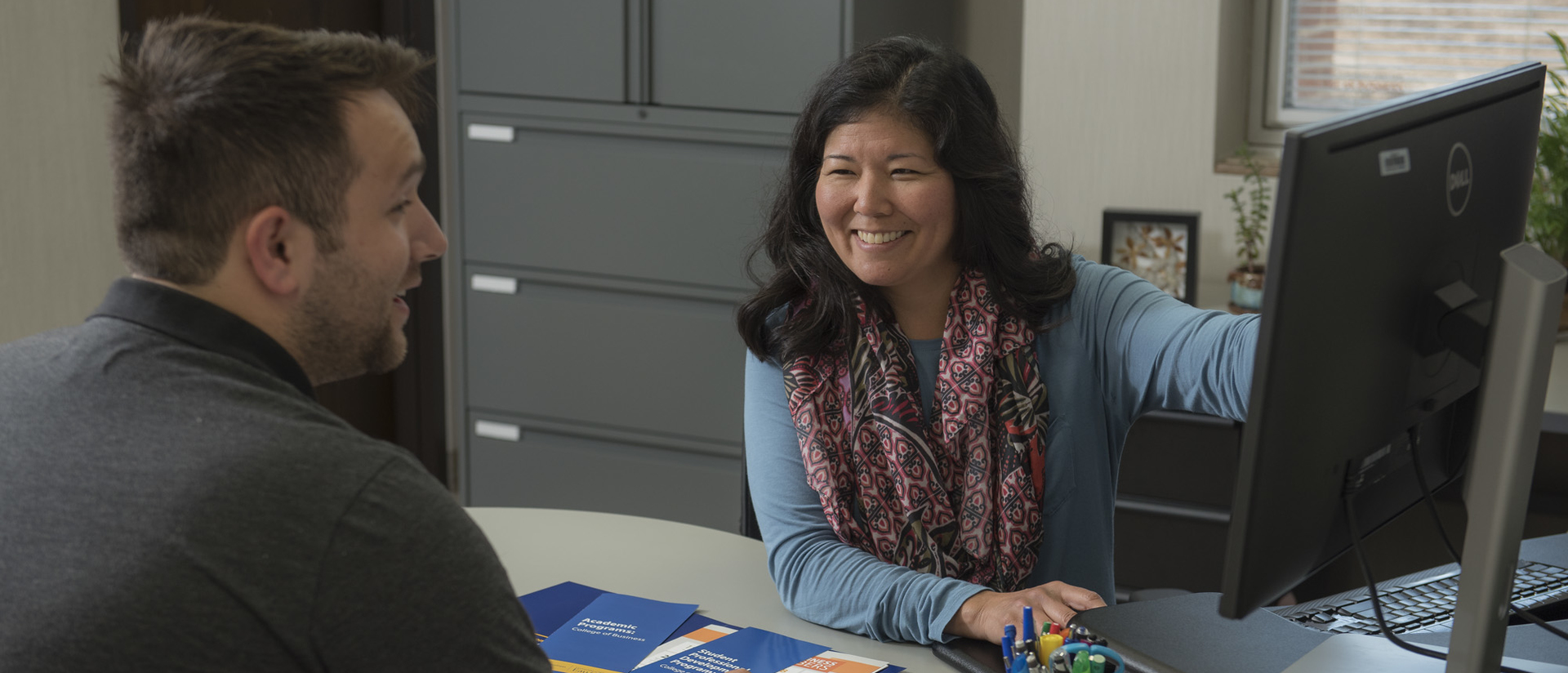 If you choose to be an undeclared student, you will be welcomed and supported at UW-Eau Claire. You will be assigned an academic advisor in the Advising, Retention, and Career Center who has the curricular and career expertise to help you explore majors. You can learn more about yourself, the university, and possible majors and careers before you decide on a major. **About one third of new freshmen are undeclared. Of the remaining two thirds who arrive at the university with a declared major, 60 percent will change their major at least once before graduating. So, most students are undecided at some point in their college career!**
In addition to teaching a 1-credit class for exploring majors and careers, advisors meet regularly with students one-on-one to explore options. There are also workshops and fairs each semester where undeclared students can learn more about possible majors and careers as well as meet both with representatives from various departments on campus and potential future employers.
Prepared for success
The major and career decision process has three components: First learn more about yourself; then, learn about academic disciplines at the university level; and finally learn about careers that interest you.
As an undeclared student you will be assigned to an advisor who understands academic policies and the curricular requirements for every major on campus, and who also knows how to help you explore possible majors and careers. Your advisor will help you meet university graduation requirements, suggest courses that fulfill requirements in a number of majors, and also help you explore your interests. You will be encouraged to explore courses in a major or directed to a department to meet with a faculty member. At the same time, your advisor will help you through a process of research, analysis and decision making that will lead to you being able to make an informed decision.
If you work with an advisor each semester from the time you arrive at UW-Eau Claire, you will be able to finish most majors within four years. Research shows that being undeclared does not typically delay graduation.
---
First-Year Suggested Curriculum
Most students take about 30 credits in the first year (15 credits per semester) in the first year. Courses include those that meet the university graduation and liberal education requirements and help you explore majors.
University writing requirement—depending on placement exam
Mathematics course—depending on placement exam and programs of interest
Liberal education courses
Language course—depending on placement exam and programs of interest
Course Work / Pre-Professional Courses
A one-credit course--Gen 250: Academic and Career Exploration--is available to help you explore the options available to you in your education and career. It includes career development theory, interpretations of self-assessment instruments, occupational research techniques, etc.
Program Options
Gen 250: Academic and Career Exploration - helps you explore options in a one-credit course
We offer regular workshops for exploring majors and careers. You will receive an email with workshops that are available to you.
A career assessment tool, the Focus 2, as well as the Strengths Quest assessment are available to help you identify your interests, values, skills and personality traits. Academic Advisors and Career Counselors will help you understand your results so that they are meaningful to you.
Printable APS Sheets | Catalog Links | Degree Plans
2018-19 Resources

Academic Program Sheets

Catalogs
2017-18 Resources

Academic Program Sheets
2016-17 Resources

Academic Program Sheets
2015-16 Resources

Academic Program Sheets