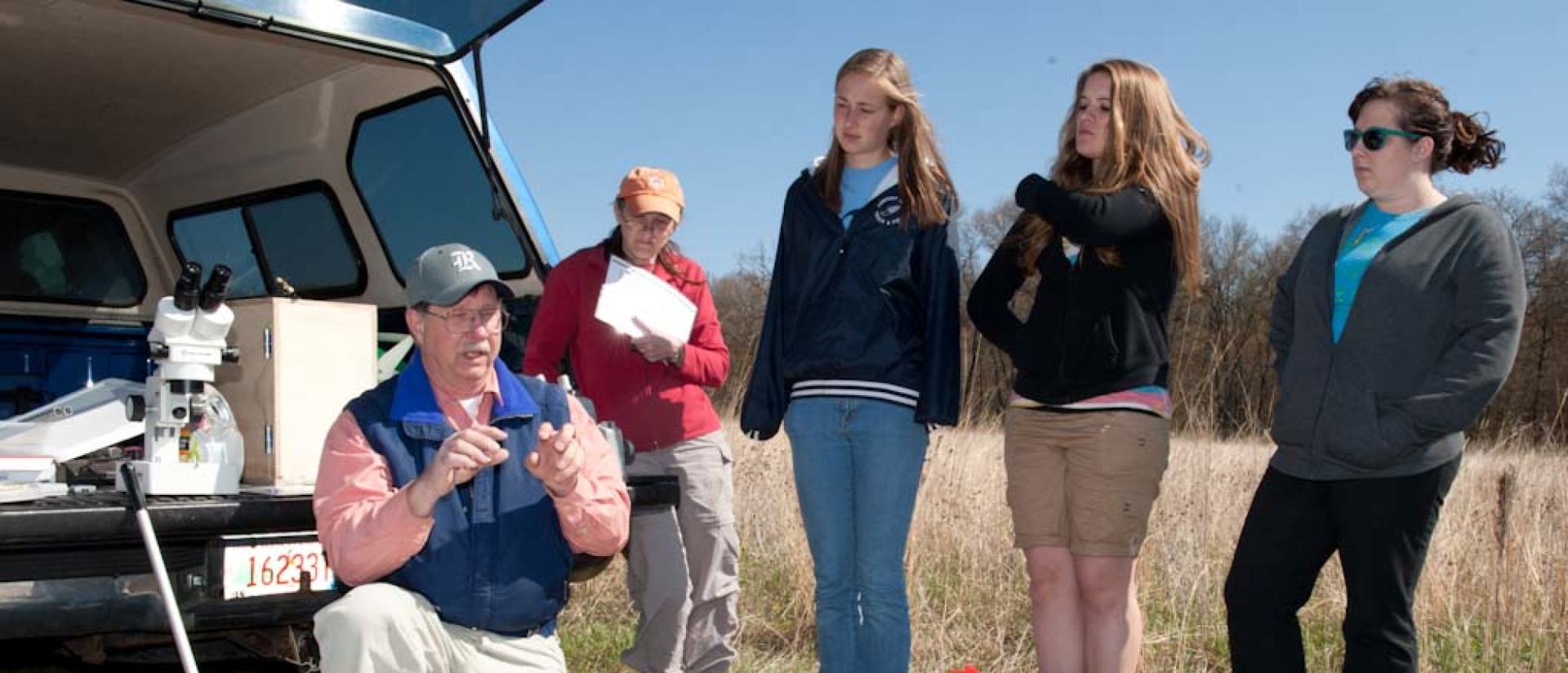 Partnerships for Pollinators is a partnership of community members, local organizations, and UW-Eau Claire students and faculty dedicated to educating the public on the importance of pollinators in our ecosystems. Through outreach education, we aim to promote pollinators as vital contributors to the ecosystem and to show that without them, our environment, our economy, our very livelihoods would suffer greatly. Our partnerships also seek to encourage local projects, such as pollinator habit gardens, that not only educate but also directly benefit pollinators.
Where we've come from
In early 2012, Partnerships for Pollinators grew out of a UW-Eau Claire class project involving the monitoring of pollinators and exploring their importance in the Earth's ecosystem. Partnering with local organizations, these students planted a pollinator habitat in the Phoenix Park area of Eau Claire to educate the public on the roles of pollinators and to offer local pollinators another place to collect pollen. Plant materials used to create the garden were donated by community members, in particular, the Eau Claire Garden Club.

Partnerships for Pollinators includes members, such the Girl Scouts of the Northwestern Great Lakes and the Phoenix Community Garden, both of which have helped grow and maintain the partnership's pollinator habitat. Also involved is the UW-Extension, which offers information materials and education, and Beaver Creek's Citizen Science Center with its solitary bee monitoring group. Finally, the partnership has expanded to include more individual community members dedicated to promoting pollinators.

In 2013, because of our commitment to pollinators and the environment, Partnerships for Pollinators was awarded a grant from the Wisconsin Environmental Education Board. This grant provided funds to expand our website, print educational materials, and maintain the pollinator habitat.

Aside from the website and habitat, the partnership also holds an annual photography contest featuring photographs of pollinators, which are then presented on the website. We also maintain a Facebook page to connect more personally with community members.
Where we're going
Partnerships for Pollinators will continue to advance the role of pollinators in Earth's ecosystem by educating the public through the following means:


Offering educational materials on our website and Facebook page highlighting pollinators and showcasing their importance,
Providing outreach materials to the community, and
Continuing to maintain and develop the pollinator habitat at Phoenix Park.