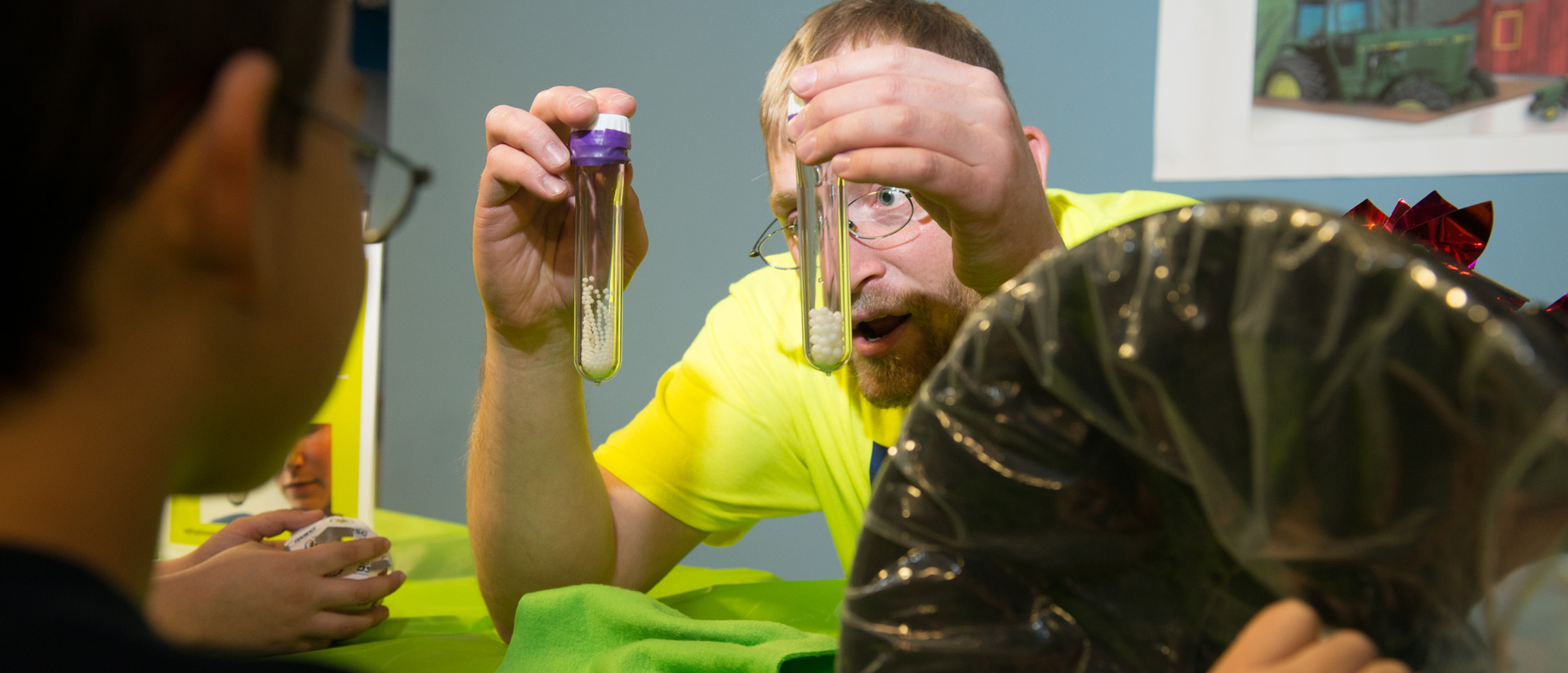 Learn about the cool things that happen when basic principles of chemistry cause awesome interactions and transformations. View the different presentations that we offer and bring one of our talented chemists to a school or classroom near you!
Chemical Demo Show

Professor: Dr. Cheryl Muller
Description: One-hour presentation featuring chemistry demonstrations that illustrate fundamental physical and chemical principles.
Ideal time: Afternoons
Evenings available: No
Weekends available: No
Program is mobile: Yes
Program is on campus: No - Travels to Schools
Group Size: 20 or more people
Handicap accessible: Yes
Fee: Negotiable fee for large groups only
Available during: Academic year only
Phone: 836-4019, 836-3417 (Chemistry Dept Office)
Email: mullercl@uwec.edu
Preferred contact: Email
Special notes: Contact Dr. Muller with questions on program content, or on special interests or program times that we may be able to arrange.
Solutions and States of Matter

Professor: Robert Eierman
Description: Presentation to grade school classes
Ideal time: Flexible
Evenings available: No
Weekends available: No
Program is mobile: Yes
Program is on campus: No
Group Size: 1 class
Handicap accessible: N/A
Fee: Negotiable fee for large groups only
Available during: Academic year only
Phone: 836-3417
Email: reierman@uwec.edu
Preferred contact: Email
Special notes: Limited availability, please contact before planning on this program
Workshops & Teaching Chem. to Hmong Students

Professor: Thao Yang
Description: These chemistry workshops and teaching chemistry to Hmong students involve teaching hands-on chemistry workshops and chemistry concepts to middle and high school Hmong students. The teaching and workshops run for two weeks, two hours per day. The chemistry activities include hands-on experiments in chemistry and lectures. Students come to UW-Eau Claire during the summer for two weeks as part of the university's Hmong Youth Leadership program. This program is coordinated by Charles Vue of the Office of Multicultural Affairs.
Ideal time: Summer
Evenings available: No
Weekends available: No
Program is mobile: No
Program is on campus: Yes
Group Size: Flexible
Handicap accessible: Yes
Fee: N/A
Available during: Summer only
Phone: 836-3367
Email: vuecc@uwec.edu
Preferred contact: Email
Special notes: Limited availability, please contact before planning on this program