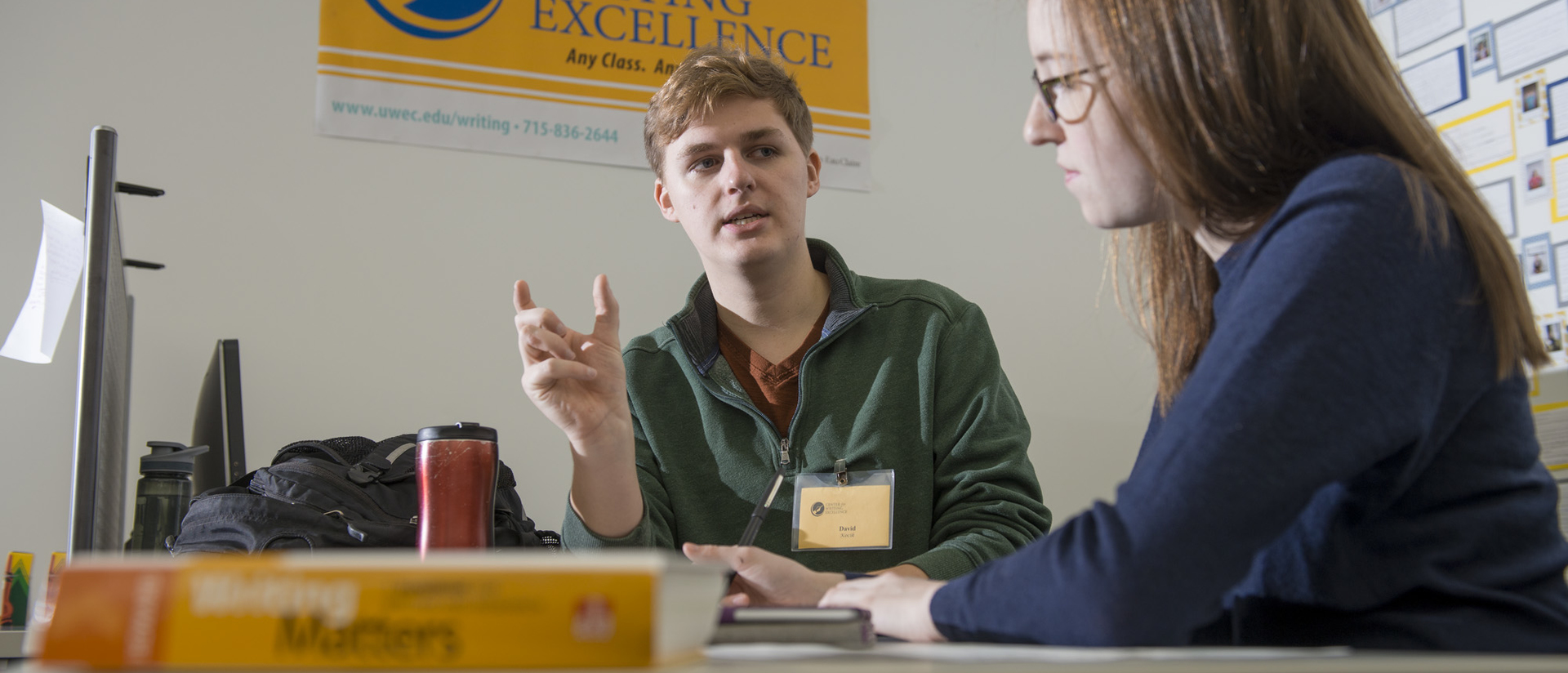 Get the assistance you need
Are you an excellent writer coming into college? Or do you struggle to pull the words together the way you'd like? The Center for Writing Excellence could be your new favorite spot. Be a peer tutor or get help from a fellow Blugold. It's a win-win!
Whether you just need a little help in organizing a major paper, or you find yourself struggling to grasp some higher level critical writing concepts, we have a center full of skilled writing assistance to help you out. The Center for Writing Excellence is rooted in the peer mentoring/tutoring model, with the understanding that both sides of this relationships gain valuable knowledge and skills this way.
The Center for Writing Excellence (CWE), located in several locations across campus, provides a comfortable and encouraging atmosphere for students to receive one-to-one tutoring sessions with qualified and trained writing assistants. All writing assistants complete an upper-level tutoring course and are regularly mentored and evaluated. They will help with any stage of writing — beginning to brainstorm, going over a final draft, or anything in between. Whether the assignment is a long research paper, short essay, personal statement, or business letter, help is available here.
How do we help?

Writing is a process. We can help you with all aspects of this process. Here is a list of areas we can assist you with:

Generating and Exploring Ideas
Exploring a Topic
Drafting
Revising Content
Revising Organization and Coherence
Could you become a writing assistant in the CWE?

The best thing about the CWE is that the benefits work both ways. Students receive the help they need in improving their writing, but equally important is the experience gained by the peer writing assistants. These students gain valuable training and experience helping others, while improving their own writing and communication skills. These skills in teaching, mentoring and interpersonal communication are highly valued by employers, and give our assistants a big advantage in the job market.

This is not a position open to new students, because it first requires completing an upper level English course, but incoming students with a passion for writing, communication, and/or teaching should keep this future option in mind as they look toward experiences to build their resume.