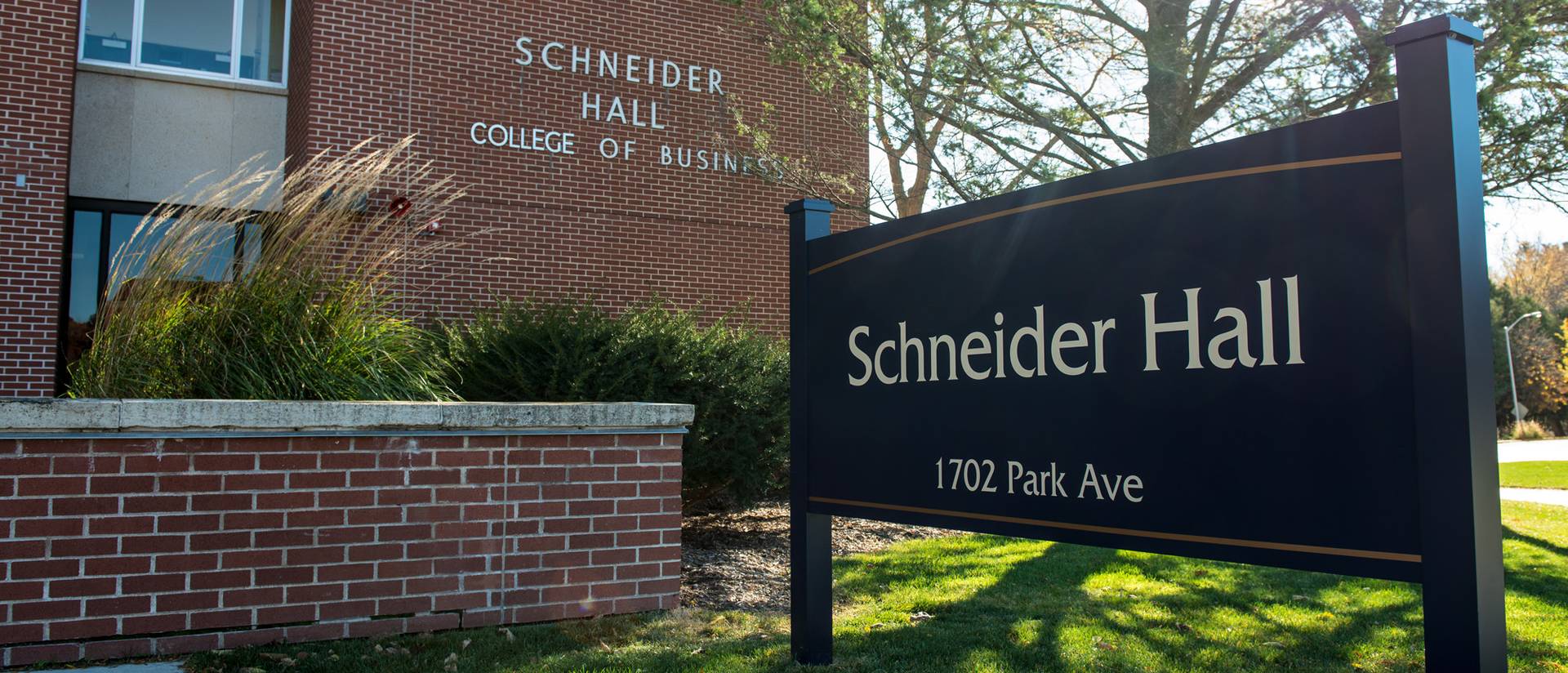 Search now open for Dean of the College of Business
The University of Wisconsin-Eau Claire seeks an inspiring and accomplished leader to serve as dean of the College of Business to leverage its unique advantages and advance the college's academic scope and regional economic impact. The next dean will join a strong senior leadership team in supporting this student-focused institution that prepares students for success through an inclusive, engaged, and experiential education.
One of the eleven regional comprehensive campuses of the University of Wisconsin system, UW-Eau Claire is ranked "Top 3 in Wisconsin" by Forbes' 2022 America's Top Colleges as well as being listed by SmartAsset as one of the Best Value Colleges.
An AACSB-accredited school, the College of Business enrolls approximately 2,750 students in undergraduate BBA programs and is the managing campus of the UW MBA Consortium. The college was reaffirmed in its accreditation by AACSB in January 2023. The UW MBA Consortium is currently ranked #9 in U.S. News & World Report for online MBA programs.
The Dean of the College of Business is the intellectual and administrative leader of the college, and the chief advocate for the mission and purpose of the college's academic programs. The dean reports to and works in consultation with the provost and vice chancellor for academic affairs. The dean promotes and facilitates the highest quality in academic curriculum and academic support programs by fostering a positive and productive work environment, a spirit of collaborative leadership, and a commitment to inclusive excellence. All applications, inquiries, and nominations should be directed to the university as indicated at the end of this document.
Responsibilities
The dean provides effective oversight and operational direction by performing the following duties:
Academic Mission
Lead the development, evaluation, and administration of the undergraduate and graduate programs for the college including curriculum, on campus and online instruction, and advising.
Provide visionary leadership within the college, university, and broader community based on a strong knowledge and value of the integral relationship between liberal education and professional education.
Maintain mission-based strategic planning, high academic standards, and faculty scholarship in support of AACSB reaffirmation.
Promote professional development and research and other scholarly and creative activities including faculty and academic staff and undergraduate student research collaboration.
College Administration
Provide dynamic, creative, and visionary leadership for the college in all academic, fiscal, and personnel matters.
Lead in collaboration with the UW-Eau Claire Foundation, college fundraising to secure support for teaching, research, program development, professional development, facilities, and other needs.
Develop, recommend and administer the college budget.
Establish and maintain appropriate records relating to faculty and academic staff, students, and alumni of the college.
Make recommendations to the provost and vice chancellor for academic affairs on all personnel matters relating to the appointments, evaluation, and promotion of faculty and academic staff, and tenure of college faculty.
Advise the provost and vice chancellor for academic affairs in matters of academic program, budget, facilities, personnel, and support services.
Encourage partnerships within the college and across the university, including those involving collaborative teaching, research, and service.
Develop and maintain partnerships with external business and academic communities that further the strategic direction of the college and university.
Promote public service and encourage outreach activities that serve the community and the professions.
Manage the nationally recognized University of Wisconsin MBA Consortium and the Undergraduate Business Alliance.
Work cooperatively and collaboratively with the academic deans of the other colleges and with the associate vice chancellors.
Foster an organizational and educational climate that promotes and celebrates diversity.
Perform other duties as assigned by the provost and vice chancellor for academic affairs.
Qualifications/Desired Characteristics
UW-Eau Claire seeks an individual with a record of distinguished academic and administrative accomplishment. The Dean of the College of Business will have sufficient academic credentials to secure the respect of the academic community. The Dean will have the following professional qualifications and personal characteristics:
A terminal degree from a regionally accredited institution.
Appropriate credentials to be appointed to a concurrent tenured position or equivalent.
Demonstrated commitment to diversity, equity, and inclusiveness.
Experience in managing complex budgets and personnel.
Effective oral and written communication skills.
Demonstrated ability to manage multiple projects and organize time and resources to meet internal and external deadlines.
Demonstrated ability to work cooperatively and collaboratively with the academic deans of the other colleges and with the associate vice chancellors.
Commitment to support teaching, learning, and student success.
Successful academic administrative and leadership experience in a complex organization as dean, associate dean, department chair, or similar position.
Capability to lead the College in developing new visions and directions.
Experience or capability relevant to leading the multiple external linkages of the College.
Demonstrated commitment to support and enhance the diversity and cultural and global awareness of students, faculty, and staff.
Demonstrated capability to support faculty research and scholarship as disciplinary contributions and as a key element of the learning environment for students.
A collaborative, inclusive, and collegial leadership style.
Skills, experience, and perspective to encourage and maintain academic standards and administer academic regulations.
Ability to represent the College effectively within and outside of the University.
The university
The University of Wisconsin-Eau Claire is a leader for academic excellence, undergraduate research and high-impact practices in the University of Wisconsin System. Consistently ranked among the top 10 public Midwestern universities, UW-Eau Claire is home to about 10,000 students, who are drawn to Wisconsin's most beautiful campus. Innovation, collaboration, leadership, diversity and inclusion, and sustainable stewardship are core values at UW-Eau Claire. About 90% of students participate in at least one high-impact practice such as student-faculty research. UW-Eau Claire students undertake more than 100,000 hours of community service each academic year.
The university is divided into four colleges: the College of Arts and Sciences, the College of Business, the College of Education and Human Sciences, and the College of Nursing and Health Sciences. The university has a branch UW-Eau Claire―Barron County campus in Rice Lake where students may earn associate degrees or begin their college careers before transferring to our main campus. UW-Eau Claire's College of Nursing and Health Sciences offers a Bachelor of Science in nursing program at our Marshfield site to allow students to learn where they live while pursuing their BSN degree.
UW-Eau Claire has approximately 1,400 faculty and staff, with a faculty/student ratio of 1:19. Groundbreaking community partnerships in manufacturing, business, health care and the cultural arts produce myriad opportunities for faculty scholarship/creative activities and student internships. UW-Eau Claire is one of the only universities in the world to have a master collaborative research agreement with Mayo Clinic Health System.
Eau Claire is western Wisconsin's largest city, home to nearly 70,000 residents who live, work and play in the area situated at the confluence of the Chippewa and Eau Claire rivers. The Eau Claire metropolitan area of approximately 173,000 people is 90 miles east of Minneapolis/St. Paul. Eau Claire is known for its beautiful parks and trails, small-town neighborhoods, excellent schools, vibrant arts scene, diverse local food culture, and abundant recreational opportunities. UW-Eau Claire's campus is within walking distance of two popular shopping districts that feature coffee shops, art galleries and live music venues.
The College of Business
Founded in 1969, the College of Business offers thirteen undergraduate majors, and is the managing partner for the highly regarded UW MBA Consortium and the Undergraduate Business alliance. The College has around 2400 undergraduate majors and 350 MBA students through the UW MBA Consortium.
The College is organized into four departments: 1) Accounting & Finance; 2) Business Communication & Information Systems; 3) Management & Leadership Programs; and 4) Marketing & Supply Chain Management. It offers a Bachelor of Business Administration (BBA) degree to all undergraduate students. The College offers majors in Accounting, Business Administration, Business Communication, Economics, Entrepreneurship, Finance, Health Care Administration, Human Resource Management, Information Systems, International Business, Management, Marketing, and Operations & Supply Chain Management.
---
To apply
Review of nominations and applications will begin immediately and will continue until the position is filled. All inquiries and nominations/referrals should be sent electronically and in confidence to:
Jane Becker, executive assistant at beckejan@uwec.edu
Applications must be submitted electronically through the campus website at: https://www.uwec.edu/job-postings/19638/ (College of Business: Dean; Job ID #19638) To apply, submit a letter of application addressing your qualifications; a CV; and the names and contact information for three professional references. The priority deadline for consideration is June 12, 2023.
The university reserves the right to contact additional references with notice given to the candidates at an appropriate time in the process. Employment will require a background check. Employment will also require you and your references to answer questions regarding past conduct related to sexual violence and sexual harassment.
The University of Wisconsin System will not reveal the identities of applicants who request confidentiality in writing, except that the identity of the successful candidate will be released. See Wis. Stat. §. 19.36(7).
The UW-Eau Claire Police Department is dedicated to maintaining a safe and secure environment for learning and working. Although crime at the University of Wisconsin-Eau Claire is limited, the University Police want students, faculty and staff to be aware of crime on campus and the area surrounding the campus. The Jeanne Clery Disclosure of Campus Security Policy and Campus Crime Statistics Act is a federal law that requires colleges and universities to disclose annual information about campus crime. Visit Campus Security and Fire Report . Also visit our Campus Security Authority policy.
The University of Wisconsin-Eau Claire is an Affirmative Action/Equal Opportunity Educator and Employer, is committed to fostering a diverse and inclusive environment, and strongly encourages applications from women, minorities, veterans, and individuals with disabilities regardless of age, gender identity, genetic information, religion, or sexual orientation.