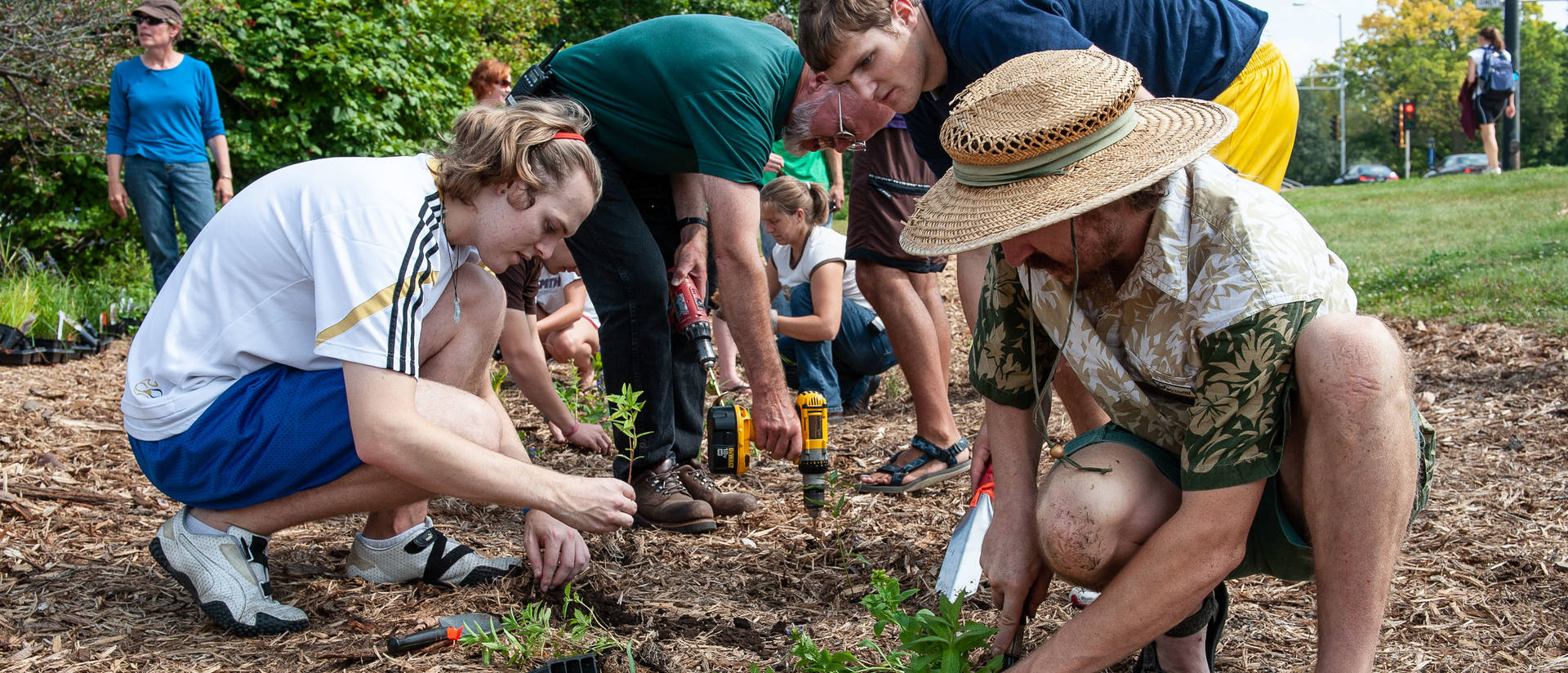 Civic Engagement + Learning
At the University of Wisconsin-Eau Claire (UW-Eau Claire) we focus on the foundations for lifelong citizenship: preparing students, faculty, and staff for active, informed, and socially responsible contributions to democracy and the public good. To this end, we are committed to meaningful teaching, scholarship, and service in collaboration with community partners.
We must nurture an institutional identity and campus culture of civic awareness and competency. We must sustain reciprocally beneficial relationships with diverse collaborators in the Chippewa Valley and in our wider community across the state and around the world.
The Association of American Colleges and Universities (AAC&U) recognizes community-based learning as a high-impact practice in its own right, as well as an effective enhancement to other high-impact practices such as first-year experiences, living learning communities, writing-intensive courses, internships, undergraduate research, and intercultural immersions. Faculty and student experiences with civic engagement at UW-Eau Claire affirm that our students are hungry for learning when learning is set within meaningful, significant, and authentic contexts. Through civic engagement, students gain valuable leadership skills, develop stronger senses of social responsibility, and become stewards of their communities. Also, Cress, Burdack, Giles, Elkins, & Stevens (2010) establish that civic engagement increases retention and timely graduation. Paired with a commitment to equity, diversity, and inclusivity, civic engagement can improve the campus climate for students from diverse backgrounds.
Service Learning is currently the only campus-wide effort at civic engagement. Service learning is just one form of the broader practice of civic engagement. Civic engagement is defined as "working to make a difference in the civic life of our communities and developing the combination of knowledge, skills, values and motivation to make that difference. It means promoting the quality of life in a community, through both political and non-political processes" (Ehrlich, 2000, p. vi). A number of departments and programs at UW-Eau Claire already provide civic engagement experiences in both curricular and co-curricular settings. However, all students should have these opportunities.
As a campus, we must pursue a broader approach to civic engagement, developing solution-based projects in cooperation with governments, community organizations, and businesses that address social and environmental challenges and have the potential to create meaningful change in our community. In addition to multiple benefits for students, civic engagement will help UW-Eau Claire demonstrate our commitment to community responsiveness and to the well-being of our region and state, all hallmarks of the Wisconsin Idea. (Wis. Stat. § 36.01(2)
Ehrlich, Thomas, Ed. (2000). Civic responsibility and higher education. Westport, CT: Oryx Press.
We wish to inspire and empower a commitment to civic engagement at the individual, departmental, and institutional levels at UWEC. Our ultimate goal is to make civic engagement a signature part of our campus identity-a reason that students and faculty come here to study/teach/and do scholarship.
Priorities + Actions
Build a culture of civic engagement and civic learning across campus.
Transform the current service learning program into a civic engagement program by strategically identifying and addressing community needs and applying the knowledge, skills, and energy of the campus community to those needs.
Transform the service learning requirement to an intentional civic engagement experience.
Replace the service learning advisory board with a civic engagement leadership structure similar to the Council on Internationalization and Global Engagement.
Revise the Faculty and Academic Staff Rules and Procedures (FASRP) and department or program evaluation plans to recognize and reward community-engaged teaching, service, and research.
Include civic engagement as a Strategic Accountability Matrix metric.
Integrate non-course civic engagement experiences into the Liberal Education Core.
Submit civic engagement experiences to the University Liberal Education Committee to meet Civic and Environmental Issues (R3) and Integration (I1) learning outcomes.
Align Civic and Environmental Issues (R3) and Integration (I1) Liberal Education Core rubrics with the outcomes of civic engagement.
Increase the number of community-based student-faculty research projects.
Develop stronger and deeper collaborations with community partners through civic engagement.
Inventory campus-community partnerships and civic engagement activities.
Identify and develop at least one long-term community project with potential for large-scale community impact. The project will involve at least one community partner with multiple disciplines and campus stakeholders.
Engage community partners to lend financial, human, and in-kind resources to civic engagement efforts that support collaborative projects.
Share successful models of collaboration and develop new models of collaboration to recruit additional community partners.